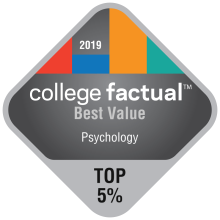 Waynesburg University's Psychology Program was recently named a 2019 "Best Value for the Money" by College Factual. The program was ranked No. 31 out of the 814 programs reviewed, placing it in the top 5 percent nationwide.
In the state of Pennsylvania, Waynesburg's Psychology Program ranked No. 3 for value.
"I am excited about this recognition because I want people to understand that what we have to offer is unique," said Dr. Jenny Jellison, professor of psychology. "Our standards are high, but we also work very hard to help our students find their purpose and reach their full potential. The success of our alumni, as indicated by this ranking, reflects this."
According to College Factual, the ranking was based on the following data: the average yearly cost of the school, the average time students take to graduate and the quality of education that students receive at the school.
Waynesburg University continues to be recognized for value. Most recently, College Factual ranked the University in the top 5% nationwide, and U.S. News & World Report named Waynesburg a Best Value School, ranked at No. 6 on the Regional Universities North list.
Our Value
See who's talking about our value and why.