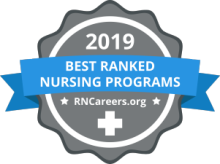 Waynesburg University's Bachelor of Science in Nursing (BSN) Program was recently ranked No. 2 in the state of Pennsylvania by RNCareers.org.
Waynesburg received a score of 98.72%. More than 668 schools were evaluated nationwide, and among the top 100, Waynesburg ranked No. 23.
Programs were scored according to their accumulated NCLEX-RN pass rates for the past three years, in addition to data such as program offerings, accreditation, institutional ranking, cost and graduation rates.
"One of the best measures of a nursing program's ability to prepare its students to become a registered nurse is to look at an institution's first-time NCLEX-RN pass rates," as stated on the RNCareers.org website.
Of the 36 Pennsylvania schools that were evaluated and ranked, Waynesburg holds the highest NCLEX-RN pass rate with a three-year average score of 99.01%. The average score for Pennsylvania schools is 89.91%.
Waynesburg University's pass rate has not dipped below 96% in 10 years. The BSN Program has also been ranked No. 2 in the state of Pennsylvania by RegisteredNursing.org for three consecutive years.
The program is accredited by the Commission on Collegiate Nursing Education (CCNE, One Dupont Circle, NW, Suite 530, Washington, DC 20036, 202-887-6791).
For more information about the Nursing Program, contact Kathy Stolfer, professor of nursing, at kstolfer@waynesburg.edu or 724-852-3207.