Alexis Taylor, senior criminal justice major with a minor in psychology, did not know exactly what she wanted to go to college for or where she would go until she attended Waynesburg University's CSI Camp.
"It was there that I realized that I definitely wanted to pursue law enforcement," Taylor said. "I'd always watched all the crime shows and I always thought that would be pretty neat to be able to do something like that."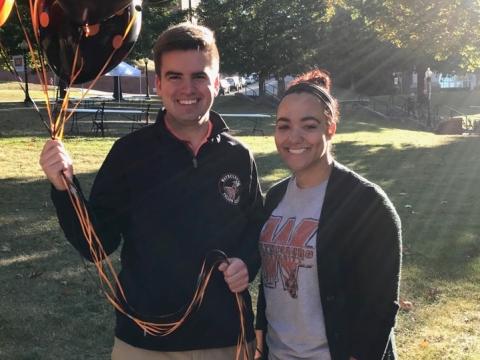 Waynesburg University had everything she wanted in a university: small size, Christian values and a great criminal justice program.
"After visiting all the other schools and then visiting Waynesburg, I said this is where I need to be. I have to come to Waynesburg," Taylor said. "None of the other schools compare."
All four years of her college career, Taylor was highly involved in the Criminal Justice Club on campus. Her sophomore year, she served as the club's vice president, and her junior and senior years, she was elected president of the club, a position Taylor said she was honored to serve in.
College is what you make it. If you're willing to put yourself out there, make friends, get involved and be a part of the Waynesburg community, it is going to be a really good experience for you."
Taylor also played guitar and sang on the campus worship team all four years, as well as serving as an orientation leader for three years. She was also a counselor at the CSI Camp that first drove her to attend Waynesburg University.
During her freshman year, Taylor said she was considering changing majors, but taking Criminal Justice Administration, an intro course for majors in the department, solidified her initial choice.
"I took that course with Mr. Jack, and he just solidified it," Taylor said. "I was like, this is what I want to do. This is what I'm passionate for, and I decided to stay, and I'm so happy that I stayed."
Taylor said she especially enjoyed taking Advanced Crime Scene Investigation and Criminal Investigation as part of her curriculum, taught by two professors she said encouraged and influenced her the most during her time at Waynesburg: Adam Jack, chairperson for the Criminal Justice and Social Sciences Department, and James Tanda, instructor of Criminal Justice. According to them, Taylor was an excellent student and an example to others.
"I had her in several criminal justice classes, and she was consistently at the top of the class academically. She worked hard in and out of the classroom," Tanda said. "I have watched Alexis grow from her freshman year as a new student to a true leader of her class by her senior year."
Jack said her willingness to take on new challenges, and in many cases a great deal of work, is one of her greatest attributes, as well as her compassion.
"My advice to Alexis is to continue to strive for excellence in all that she does, but also embrace the trials and failures as they will also occur in life," Jack said. "We find strength in our times of adversity, and I am sure that she will be able to handle anything that life throws at her with wonderful family support and a tremendous faith in God."
Taylor said her favorite memory during her college years was traveling to Greece with a group of other students.
"I went to Greece my sophomore year to walk the footsteps of Paul over spring break," she said. "I had never been out of the country before that trip, so that was really a big deal, and it was just an incredible experience."
The advice Taylor gives to freshmen is to stay open-minded.
"College is what you make it," Taylor said. "If you're willing to put yourself out there, make friends, get involved and be a part of the Waynesburg community, it is going to be a really good experience for you."
---
This article originally appeared in Waynesburg University's student newspaper, "The Yellow Jacket."
Congratulations, Class of 2020!