"All flowers do not bloom at the same time, and flexibility is key to success. Listen to those who want to help you," said Allie Christopher, senior middle school science and social studies education major.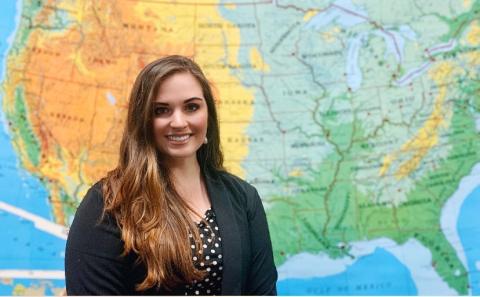 That's Christopher's perspective on being a fifth-year student at Waynesburg University, the place she says has inspired her as she's accomplished her degree.
"The Education Department has taught me that it is okay to grow at your own rate," Christopher said. "Those who know me well, know that I flip-flopped majors a few times, but I finally found my niche with the help of my family and professors."
Christopher was a member of the Lamplighter Touring and Concert Choir her first two years, as well as a recipient of the Waynesburg University Vocal Scholarship. She then became a member of the Chapel Worship Team for the remainder of her time on campus.
Christopher said she is especially fond of all the opportunities for travel the University has given her, including trips to Costa Rica, New York City and Greece.
"My favorite memory at Waynesburg was in 2016 when I went on my first mission trip to Costa Rica," Christopher said. "On this trip, I grew stronger in my faith and even realized that I wanted to be a teacher after working with an afterschool program in Los Guidos, Costa Rica."
Allie strives to give the best of herself to help others. Her future students will be blessed to have her as a teacher."
Associate Professor of Education Kelley Solomon has been one of the biggest blessings in her life, Christopher said, for her ability to inspire. 
"She has been my advisor for the last five years, and I would not be where I am today if it wasn't for her drive and expectations for me as an educator," Christopher said. "Her passion for education and her students is inspiring and I hope one day that I will be able to impact others like she has for me."
Solomon said it is Christopher's positive energy and eagerness to be in a classroom that she will miss the most.
"As a third-generation graduate of WU, Allie embodies the mission of the institution," Solomon said. "Allie strives to give the best of herself to help others. Her future students will be blessed to have her as a teacher. During her student teaching experience, Allie flourished and provided a positive learning environment for her students. She demonstrated the qualities of an outstanding educator."
The unprecedented circumstances of the virus have left everyone wondering what their next steps will be. Christopher's advice is to take time to feel.
"It is okay to feel sad about the unknowing, but always have hope," she said. "My family and I are healthy, I still graduated and finished college, whether I walk across a stage or not, and most importantly, I learned that every day with the ones you love is a gift."
---
This article originally appeared in Waynesburg University's student newspaper, "The Yellow Jacket."
Congratulations, Class of 2020!