Senior wrestler Dillion Charlton isn't a normal senior athlete in the aspect of just playing one sport his whole college career. In fact, Charlton never even wanted to wrestle in college and was glad being done after graduating from high school
"If you would have asked me in high school if I was going to wrestle in college, I probably would have laughed at you," Charlton said. "That wasn't something I wanted to do at all."
Being recruited by Waynesburg University for both soccer and wrestling, Charlton originally signed on for the former but realized the pitch wasn't for him after his freshman season.
"I decided to stop playing soccer simply because it wasn't what I expected," Charlton said. "I wasn't as happy as I was expecting to be by playing soccer at the college level. It just wasn't the fit for me."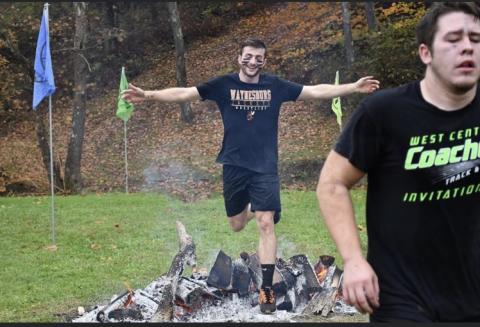 Charlton had a change of heart in sports over his freshman year, deciding he didn't want to play soccer anymore and welcoming back a familiar sport, wrestling.
"I really missed it," Charlton said. "I talked to coach [Gennaro Bonaventura], met the team, and missed being away from the sport I grew up doing. So, when I finally decided that I wanted to wrestle, I was much happier and I'm so glad I did it."
Charlton's decision stemmed from what he missed the most about wrestling - brotherhood. 
"Wrestling is a sport where your teammates are your brothers and that's what I missed most," he said, "along with being able to go in the room with some of my best friends and scrap hard."
I've met some of the best people at Waynesburg from the wrestling team, soccer team and within my major."
In Charlton's second season with the team, his junior year, he was named one of the captains. Throughout his career, the Stoystown native racked up a 55-42 record in three seasons.
This season, Charlton finished second in the Presidents' Athletic Conference and eighth at the Southeast Regionals, earning him NWCA academic All-American honors, one of his favorite memories at Waynesburg.
"We had been at the regional tournament, and I knew I was close to getting it with my win-loss record and my GPA," Charlton said. "I honestly didn't even realize which match would be the deciding factor until I walked off the mat after winning. [Bonaventura] gave me a big hug and told me 'congrats.' I kind of looked at him puzzled and that's when he told me. It was an awesome feeling."
Charlton's 25-16 record along with his 3.58 cumulative GPA were the main factors in his becoming an academic All-American.
The thing that Charlton will miss most about Waynesburg is one of the factors that brought him back into wrestling - his friends.
"I've met some of the best people at Waynesburg from the wrestling team, soccer team and within my major," Charlton said.
Although he often complained about the long trips to tournaments, he'll miss them as well.
"I'll really miss the long and sometimes horrible trips to faraway tournaments in vans, which is crazy that I'll miss those," he said. 
Charlton's plans for after college is to get a job teaching elementary education somewhere close to home. He'd also like to return to wrestling in a coaching role.
---
This article originally appeared in Waynesburg University's student newspaper, "The Yellow Jacket."
Congratulations, Class of 2020!