Six Waynesburg University students were recently admitted into the Vira I. Heinz Program for Women in Global Leadership.
This year's participants include Kara Compton, Rebecca Fremd, Elena McDermott, Alexandra Reineck, Nia Shuler and Briana Zaharko.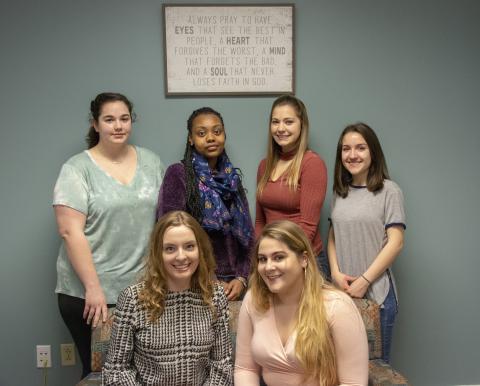 Funded by The Heinz Endowments and facilitated by the University of Pittsburgh, the program aims to prepare women for global challenges by offering international experiences, leadership development and community services. The scholarships are open to students at colleges and universities across Pennsylvania, and offer at least $5,000 to recipients who have never traveled outside of the United States. In total, the Waynesburg University recipients will receive approximately $40,000.
Pat Bristor, associate dean of students, encourages Waynesburg applicants to plan their trips in stark detail, going beyond what the application requires. This sets them apart, Bristor said, because of their discipline and commitment to the program. She believes this is why Waynesburg University is consistently awarded more than the three scholarships typically awarded per university.
The recipients of this year's scholarships have already chosen their destinations and study programs. Compton, a junior criminal justice administration major, will attend a four-week seminar on Wrongful Conviction and Human Rights in London, England. She is excited to gain a global perspective on criminal justice and legal practices.
Fremd, a junior nursing major, will spend seven weeks in Bengaluru, India, studying health care services, learning healing methods and getting hands-on experience. She is most looking forward to immersing herself in the culture and volunteering at a local village.
McDermott, a sophomore environmental science major, will go to Australia for four weeks, where she will study conservation, service learning and culture. McDermott said she is excited to do a conservation service project that aids Australian wildlife.
Reineck, a sophomore biology (pre-med) major, will spend one month in Belize. She plans to spend the first two weeks studying holistic healthcare of the country's tradition, and the second two weeks learning about public health and tropical diseases. Reineck is eager to practice and learn new skills in holistic remedies, as well as to explore a new culture and experience growth.
Shuler, a junior criminal justice administration major, will to travel Cape Town, South Africa, for two months. She will take courses focusing on community development and poverty while serving the area in need. Shuler is most looking forward to experiencing a new culture, while making a positive difference in the Cape Town community.
Zaharko, a sophomore nursing major, will travel to San Jose, Costa Rica, for five weeks, where she hopes to learn skills that will aid her future career as a nurse. She will take a Spanish course designed for health professionals, as well as a class on alternative health approaches. Zaharko is looking forward to finding new ways to improve herself as a leader and as a nurse.
About Heinz Endowments
The Heinz Endowments is devoted to the mission of helping the Pittsburgh region prosper as a vibrant center of creativity, learning, and social, economic and environmental sustainability. Core to its work is the vision of a just community where all are included and where everyone who calls southwestern Pennsylvania home has a real and meaningful opportunity to thrive.
About Waynesburg University
Founded in 1849 by the Cumberland Presbyterian Church, Waynesburg University is located on a traditional campus in the hills of southwestern Pennsylvania, with three additional sites located in the Pittsburgh region. The University is one of only 22 Bonner Scholar schools in the country, offering local, regional and international opportunities to touch the lives of others through service.