Waynesburg University hosted its first Springfest Saturday, March 27. The event was held in place of Waynesburg's annual Homecoming weekend and featured the crowning of Waynesburg University's Springfest King and Queen.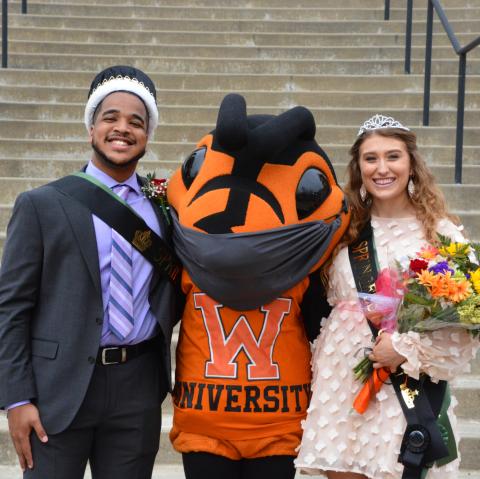 Isaiah Skeete and Angelica Good were respectively named the 2021 Springfest King and Queen.
Skeete, son of Haniff and Michelle Skeete of Reading, Pennsylvania, is a criminal justice major. He is a Bonner Scholar and frequently participates in community service.
Skeete is also a Waynesburg University Student Ambassador, the Social Vice President for the Student Senate and a member of the Diversity and Belonging Student Advisory Board and Stay at WU Team. He was also previously a Resident Assistant and Fiat Lux mentor.
Upon graduation, Skeete plans to pursue a Master of Arts in Criminal Investigation degree, and later, join law enforcement with hope of becoming a homicide detective.
"It is a great honor to be crowned the Springfest King," Skeete said. "I was given the opportunity to represent the student body and exemplify the mission of the University, and I am very honored that the student body voted for me. It really means a lot."
Good, daughter of Renee and David Good of Munhall, Pennsylvania, is a middle-level education major with concentrations in English/Language Arts and Science. She currently serves as the captain of Waynesburg's Cheerleading Squad and has been an active member of the team for four years.
During her time at Waynesburg, Good has served as a Resident Assistant, a Student Manager for Aladdin Food Services, and Copy Desk Chief and Editorial Assistant for The Yellow Jacket, the student-run campus newspaper.
Good is also the recipient of the Center for Service Leadership Office Initiative Grant, which enabled her to create the "Because Rising Above Ignorance Nourishes" (B.R.A.I.N.) Campaign. Through this initiative, Good organized and ran a mental health club for middle school children in the Greene County community.
Upon graduation, Good hopes to continue her own education and positively influence others through obtaining a middle school teaching position.
"To be crowned Springfest Queen is a great honor, and it truly means a lot to me. To know that I have influenced my peers in a positive manner is something I am grateful for," Good said. "Thank you to all of those who are always supporting me and making me feel so special. Your kindness doesn't go unnoticed."