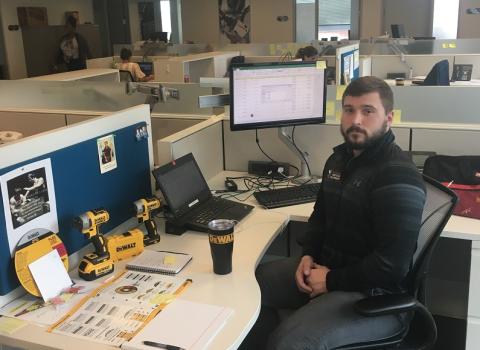 Josh Sneeringer's first job was doing construction work with his family, so he has always been familiar with different industrial tools and hardware – particularly DeWalt Tools.
Then, last summer, he worked at Schmuck Lumber, where he became familiar with sales representatives from Stanley Black & Decker, DeWalt's parent company. The representatives taught Sneeringer all about the company and connected him with other employees who could help him obtain an internship.
For the senior business administration major, working at Stanley Black & Decker was the natural next step in his career.
Starting in June 2018, Sneeringer was a product marketing intern, doing market analysis for the DeWalt brand. Sneeringer said his main job was comparing DeWalt wheels to competition, noting necessary changes and conducting research for many company projects.
"The internship is far more than I expected, in a completely positive way," Sneeringer said. "I am doing actual work that will be used by the company in the long run, and I am treated like a regular employee."
Sneeringer credits his business classes at Waynesburg University for helping him make the most out of his position and complete projects with confidence. Sneeringer said his leadership class, in particular, "helped me prepare for the work load, handling how to work in a professional environment and how to be a leader when doing a project."
Additionally, Sneeringer said his campus positions as a resident assistant and a member of the varsity wrestling team prepared him for success.
"Each required me to have good discipline and time management," he said. "Both of which are extremely important to being able to keep up with the projects that I have been working on."
Sneeringer said his internship experience helped him better understand his opportunities after graduation this spring.
"This is the company I want to work with post-college," he said.
Department of Business Administration
To learn more about the areas of study and experiences within the Department of Business Administration, click below.