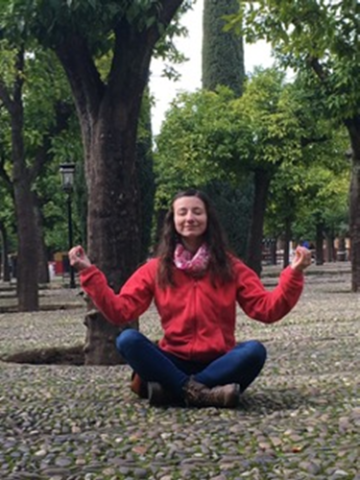 Hola a todos! My name is Alexandra, and I recently had a dream come true by living in Spain. If you are reading this blog, you are probably about to take your own exciting journey to a new country, a new culture, and a new life-changing experience. Right now, so many things are probably racing through your mind. What should I pack? Should I go? What if I miss my flight? Can I really do this? What if I get pick-pocketed and lost in a strange place? Will they have Kit-Kats? All of these questions were rushing through my mind during the weeks prior to my plane taking off. I watched numerous blog videos, spoke with former travelers, and still felt terrified to go. So, my hope is to offer all of you some advice that will ease stress and answer frustrating questions.
These are the things I wish I knew before I left the U.S.:
Do not bring Big Bertha: This was the name of my ginormous, oversized suitcase. Bringing heavy luggage just makes traveling more challenging. It was a pain to lug through the airport, the streets of London and Spain (I got so many cuts on my ankles), and don't even get me started on the tiny Spanish elevator. Spain - and all of Europe - has pretty much everything in America. You can buy new clothes (you'll definitely want that European style), they have hygienic products (yep, Pantene is there), and you can even buy a cute pair of boots/shoes. You also do not need to bring heavy books or a giant Bible. Try bringing a pocket-sized version of these items. I also brought way too many entertainment items for the plane. You are going to sleep! So one book, a laptop with a movie/phone, or something to knit is plenty. Call some friends while you're at the airport to keep busy!
No t-shirts/leggings: One of the reasons that my suitcase was so big was that I had so many t-shirts. Guess what? No one in Europe wears them! Everyone dresses up, and while I'm all about having your own sense of style, you really don't need that many shirts. My laundry was done once a week and I really only needed two weeks' worth of clothes. As for pants, jeans, dress pants, and long skirts are popular. You can always buy them over there! I would have brought just three pairs of pants, and a pair of sweatpants to wear in my bedroom.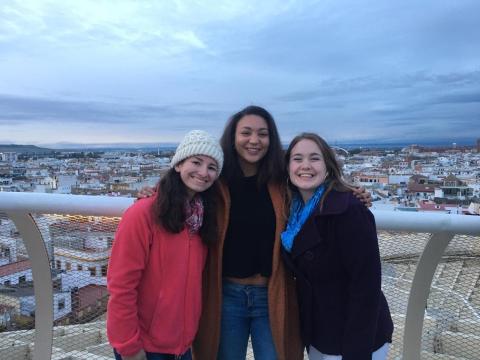 Think layers: In Spain, the buildings are much colder on the inside than the outside. So, it's a good idea to wear cardigans or an outfit with two shirts. That way if you get too hot, you can take the sweater off, but you have it for when you're inside. This is also smart for the warmer season so you have some short-sleeve outfits to keep using. Scarves are also typical, but you can always buy your own Spanish bufanda.
Shoes, shoes, and LESS shoes: You are going to walk A LOT! So much, I had to throw out 2 pairs of shoes!! I typically walked anywhere from three to five hours a day (I have great calves now at least). However, this does not mean you need to bring an extra bag full. I would recommend a pair of comfy tennis shoes to wear every day (most people I saw were wearing tennis shoes). I also had a pair of black wedges - the best decision! They were very comfy and great for when I wanted to dress up to go out. Bring a pair of slippers, your Señora will yell at you if not. While in Spain (or any country), you can buy a nice pair of walking rain/waterproof boots. This way, they won't take up too much room. In January, there is a huge boot/winter shoe sale in Spain. I got a pair for 20 euros that I still have! 
Spain is like the rest of Europe: I'm not sure what stigmas you heard about Spain, but it is very similar to the rest of Europe. They have the same technology, same European fashion, and modern products. And yes, you will be asked about your opinion of Trump. A misled stereotype is that Europeans/Spaniards hate Americans. Nope! The real stereotype is that Sevillians hate the British, because they are drunk all the time and party in their city (ha ha). Oh, and no one smiles at strangers on the street. Sevillians are so welcoming and friendly, once you know them though.

Money - How much do I need?: A big concern, right? How should I bring money over? How much do I need? Do I need to work 10 summer jobs? The summer before I left, I worked a lot to save up. I bought my plane ticket through American Airlines on STA.com (highly recommend this site!) and only paid $640.00 for a roundtrip to London. Now, I've seen tickets as high as $1200, so it really depends on which airline you use and what day of the week you fly out. Weekends are always pricy. My friend Melissa and I each flew out on a Wednesday, stayed in London for 4 days, and then flew to Spain. As for the semester, it all depends on how much traveling you plan to do. You can have cheap weekend trips anywhere from $100-$300. I spent a total of $1100 on traveling, food, dance classes, clothes, and other things during the semester. I was only there for half of it (thanks COVID), so I would plan for $2000-$2500. However, if you want to take a lot of trips, you may spend more, possibly $4000-$5000. You can always make a budget and plan in advance - it really helps take away stress.
Money Exchange: I really recommend checking with your bank on international charges. I have PNC and found out a little too late that I would get a 3% charge every time I used my card - RIP. Luckily, I had opened a credit card beforehand that thankfully didn't charge extra, so I mostly used that. Check with your bank about traveling credit cards and other ways to avoid the charge. There is a cool fact I found out while in Spain, though. PNC reimburses ATM withdrawals! Every time I took out cash, I got charged $5. However, I would later be reimbursed. It's nice to have cash at cafés because you can just pay with your coins and go. Oh, and if you do use your card, DO NOT CLICK ON THE USD conversion! It's almost always more expensive than just having your bank figure it out.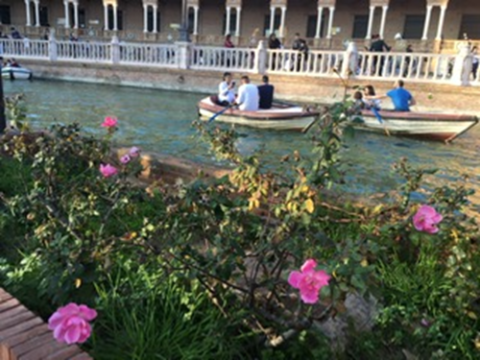 Hostels are the way to go: What do you think of when you hear the word hostel? Dirty? Thieves? Rats? Well, there are actually some really great (and cheap) hostels out there. I was leery at first, but loved my stays! Melissa and I met so many people from around the world. Women from Brazil, Spain, Argentina, Mexico, Canada, other American students, and so many more! There was a mouse in one of our hostels, but it acted as a bonding experience with the rest of the dorm as we all worked together to chase it out. Hostelworld.com has some great places, and offers female-only options. I would also recommend St. Christopher's Inn in London: It had a delicious restaurant and bar called Belushi's; best burger ever! Oh, and try the arancini bites, too - yum! 
Traveling: If money is tight, do not worry about not getting to see Europe. You are in Spain to study Spain, so it's okay to just spend your money there. Europe, while it looks small on a map, everywhere was a lot farther apart than I realized. When COVID hit, I did not get to take my trips to Portugal, Morocco, or Romania. However, I am so thankful for my time in Spain. It truly is an amazing place.
Flying alone: I was terrified to do this, but airports are not scary whatsoever! I felt comfortable the entire time, always could navigate, and felt safe. As long as you pay attention to flight times, you will be fine!
You think you're a night owl now? Ha!: The nightlife in Spain is way different than America. A typical Friday: You have school until noonish, have lunch around 2 p.m., nap/siesta time until 5 or 6 p.m., get ready for the night/have tapas (appetizers), dinner is around 10/11 p.m., then at 2 a.m., the party starts! Many Spaniards go out dancing and hang out in the streets until 8 a.m.! One reason siesta time is a MUST.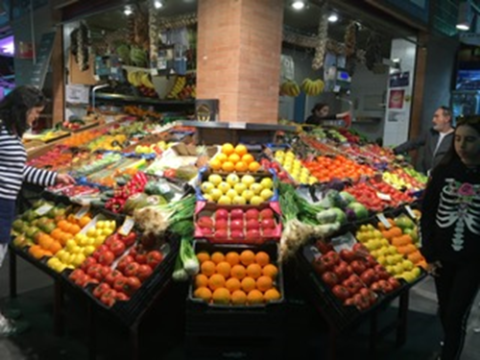 Siesta time: This beautiful time of day makes the late lunches worth it. Businesses will close from 2-6 p.m., so expect to do shopping later in the day. Take advantage of siesta time! Either nap, watch some Netflix, or just explore the beautiful streets of Sevilla.
Food: If you are in Spain, be prepared for some culture shock. Back in the winter, when I thought of delicious Spanish food, I thought of bright, spicy, Mexican food. However, Spanish food is completely different. Southern Spain has more of a Mediterranean diet. So, you will eat a lot of fish. My host Señora also didn't make a lot of meat. For protein, we would have eggs in a salad, occasional salami slices in a bowl of rice, or lentils. Lots of lentils and beans! While not what I pictured, the food really is delicious. I ate so much bread (literally an entire loaf at every lunch). I would also recommend trying patatas bravas. It is a type of tapa with potatoes and a sweet tomato sauce with mayonnaise. So good!!!! The tomato sauce is common in a lot of dishes and is truly the best sauce in the entire world!
Postres: If you're going to gain weight on your trip, it's from the countless pastries in the streets. There is literally a café on every corner, sometimes multiple! Please try torijjas, it's like a sweet French toast. Best dessert in the world, it will start hitting cafés during lent. I wish I would've known about them sooner!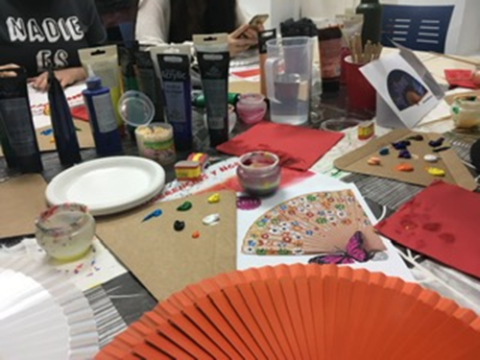 Become a local: This is one of the best parts of the culture. Every time I went into a school supply shop, the cashier Mercedes screamed, "¡Hola Guapa!" It made my day to see her; I wish I would've visited her more often. Becoming a local at a café and having sweet conversations with employees and owners will make you feel like you belong.
Hair: Alright, so here is a downside. In Sevilla, you are by a river with humidity and heat. Your hair is going to be a frizz ball. I have wavy hair, and it didn't always look the best. Normally, I braided it before bed and then used hairspray in the morning. It usually worked, would recommend! You can always invest in some products, a flat iron, or trying some cute new braids.
Pictures: Take pictures everywhere you go and have people take pictures of you! I would rarely ask, so I actually don't have that many pictures of myself by cool buildings or sites. Don't worry about how you look, take as many photos as you can! You don't want to want more later.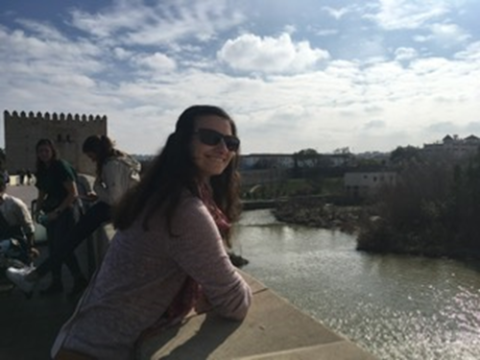 Postcards: I wish I would've mailed these earlier. I had bought them two weeks before COVID hit, but never filled them out. These can make great souvenirs, especially if they have a Spanish stamp! Then friends will want to mail you letters! Just don't ask them to send packages. You will have to pay a pricy ($80) custom fee.
Neon: Another fashion tip: Only Americans wear bright colors. So, if you are trying to blend in, leave the hot pink jumpsuit at home.
Meet Spaniards: You may have to go to some intercambio exchanges, but really try to meet locals. It's a great way to practice your Spanish and make some great friends. Once you know a Spaniard, you know them all! So try to meet the jóvenes so you guys can hang out.
I can't do this: As a more serious tip, I wish I would've had more confidence. I was always worried about how I sounded, causing me to miss out on some interactions at the beginning. It's okay, you can do this! Other American students are going through the same thing, even if they seem to speak better. Most people are patient and can figure out what you are saying. I am also the first person in my family to leave North America, meaning most of my family was fearful and conjuring up every negative possibility. I swear my mom saw visions of me being pickpocketed. Which while you do need to be aware of, is not a huge problem. Despite my family's concerns, I did it! I traveled! I did make mistakes, but I survived and thrived! You can too; just believe in yourself and focus on growing, not how you seem now.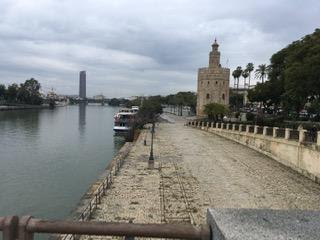 The challenge is rewarding: The first few weeks are rough. You may feel homesick, feel like your identity is gone, or are struggling to make friends. I encourage you, though, to believe the challenge is worth it. It is such a rewarding experience, so don't give up. I became more independent, gained new confidence in myself, and feel like I left a bubble and grasped a whole new perspective on the world.
My Spanish is terrible: I was really scared of this fact when I left. I could barely say hello and now all of my classes would be in Spanish, plus host Señora only spoke Spanish! DO NOT WORRY ABOUT THIS! Please! You will be okay! My Spanish was so bad at the beginning that I tried telling my Señora I wanted to watch a tv show with her, and I ended up getting a radio for my room. Yeah, not the best conversation. However, I improved, and so will you! By the end, I was having political and Gospel conversations with the locals. Oh, and for classes, the staff really works with you! I was at the intermediate level, and my professor spoke very slowly at first and used a lot of gestures for us to understand. No matter your level of Spanish, you will thrive!

I hope that my tips can offer you some guidance. In the end, you are traveling to have a great time! God has got you, and if stressful events/mistakes happen, chances are you will laugh in the end. I have so many hilarious stories to share; just ask Melissa about our Madrid flight or my "ayúdame" moments. I hope anyone reading this gets to travel and enjoy a new culture. Another point I want to add is about comparisons. One of my administrators, Leslie Routman, shared this quote from former U.S. President Theodore Roosevelt, "Comparison is the thief of joy." If you constantly compare the U.S. to Spain, your experience to others', how much you travel to others', or your speaking skills to others', you are going to ruin your trip. Take this time to experience Spain - or any country - for all it has to offer. Remember, that is why you are going, to learn and have an amazing time.