Waynesburg University honored its Commencement speakers during its Commencement Exercises Saturday, May 1, and Sunday, May 2.
Rev. James Tinnemeyer, Senior Pastor at Southminster Presbyterian Church in Pittsburgh, was awarded an honorary Doctor of Humane Letters degree, and Lance Hyde, the Director of Global Inclusion and Diversity and Koppers, was presented the Timothy & Carolyn Thyreen Service Leadership Award.
The following citations were read:
Rev. James Tinnemeyer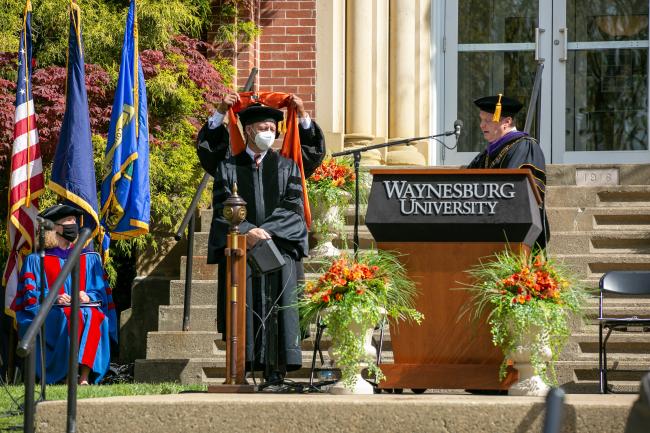 James Tinnemeyer, in recognition of your inspiring and noteworthy work as a spiritual and community leader throughout the Pittsburgh region, Waynesburg University honors you.
As a pastor and University chaplain, you have been able to uniquely impact many individuals through your preaching, teaching and pastoral care, allowing them to explore and grow as humble and influential Christians in their own churches, vocations and neighborhoods.
While at Waynesburg University, you served in a number of key roles that showcased your diverse professional background, from the spiritual to administration, law and fundraising, all of which exemplified the core tenants of the University's mission:  faith, learning and service.
Your Christian commitment, leadership and genuine care of others serve as a fitting example to Waynesburg students as they prepare to embark upon their individual professional journeys and become our future leaders.
In gratitude and respect for your accomplishments and for the ways in which you parallel the Waynesburg University mission, it is with great honor that we confer upon you our degree of Doctor of Humane Letters.
Lance Hyde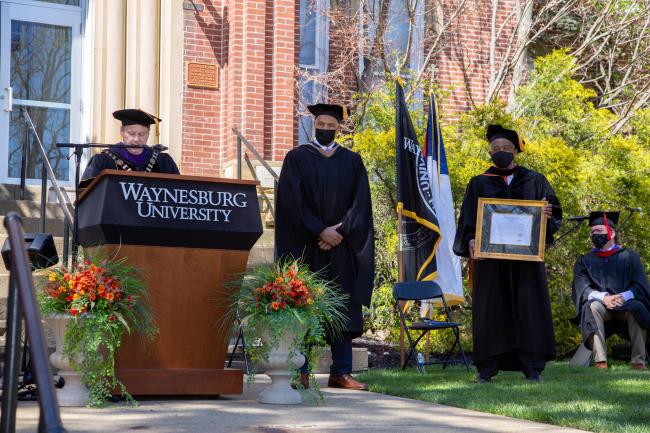 This Award celebrates Timothy and Carolyn Thyreen's legacy of serving others and is presented to those who exemplify servant leadership in their daily lives, resulting in a transformational effect on their area of focus.
An accomplished business professional and devoted change agent, Mr. Lance Hyde has positively impacted the lives of countless individuals and has immeasurably enriched the companies he has served.
As a champion for supplier diversity, his dedication to creating opportunities for individuals who are part of traditionally underrepresented or underserved groups is invaluable. His work in this space has enriched both the companies he has worked for and those individuals he has bridged to said companies.
Possessing the necessary spirit, will and intent, Mr. Hyde acted swiftly at the onset of the coronavirus pandemic, overcoming challenges in unprecedented territory, to provide much-needed supplies to those in under-served neighborhoods in Pittsburgh when they needed this assistance the most. This service was realized through his instrumental role in the development and implementation of the All One Pittsburgh initiative.
Beyond those tangible results are those which are immeasurable; Mr. Lance Hyde has helped bring light and love into the hearts of those he has served.
In honor of the servant leadership exemplified by former Waynesburg University President Timothy Thyreen and former First Lady Carolyn Thyreen, and in recognition of its embodiment of the highest principles of this institution, Waynesburg University honors Mr. Lance Hyde.