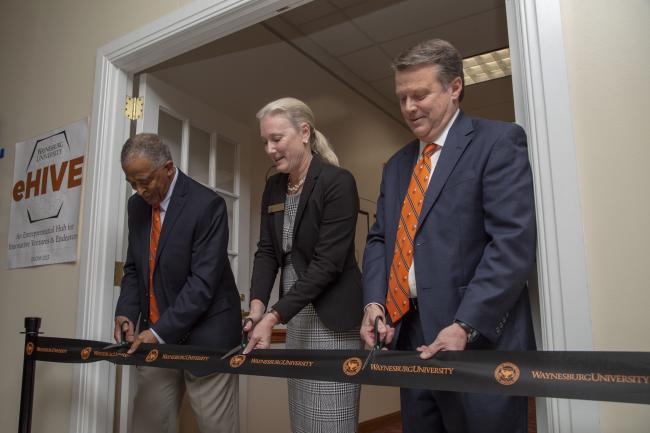 Waynesburg University launched the eHIVE, an Entrepreneurial Hub for Innovative Ventures and Endeavors, Friday, Oct. 5, with a ribbon cutting ceremony. 
Located on the second floor of the Stover Campus Center on the University's main campus in Waynesburg, Pennsylvania, the eHIVE will be available to all Waynesburg students regardless of major and will host events to foster the entrepreneurial mindset, creativity and innovation, as well as provide venture creation coaching.
During the ceremony, remarks were offered by Waynesburg University President Douglas G. Lee and Dr. Melinda Walls, the W. Robert Stover Chair of Entrepreneurial Leadership in the Department of Business Administration and the Director of The Center for Entrepreneurial Leadership.
Also in attendance were students; University faculty and staff; local community members; Greene County Commissioners Blair Zimmerman, Dave Coder and Archie Trader; President of the Borough Council Larry Marshall; President/CEO of First Federal Savings and Loans, Judi Goodwin Tanner; and Waynesburg University Board Chair Jim Lowe.
"Waynesburg University already has a very strong mission of faith, service and learning," said Walls, who will lead the eHIVE. "Our goal is to build on this mission by encouraging all students to think and act entrepreneurially. 
We encourage our students to think big, but start small, act fast, and fail forward.
"We want our students to learn from their mistakes and not be afraid of failure."
The vision of this entrepreneurial leadership program is to create a culture of proactive and innovative problem solving which will provide Waynesburg University students with the tools they need to thrive in a rapidly changing world.
"Today is the beginning of a new chapter in preparing our students for lives of purpose," Lee said. "With advances in technology and artificial intelligence, our society is changing, and the job demands are changing at an ever-increasing pace. The eHIVE represents the University's commitment to preparing students to be critical thinkers, to be adaptable, and to create a culture of problem solving, which is the hallmark of entrepreneurial leadership."
Waynesburg University's W. Robert Stover Chair for Entrepreneurial Leadership, a faculty position, was endowed through a recent $2 million gift from the Stover Foundation, which was the lead gift in the University's O.A.K.S. (Opportunity And Knowledge Strengthened) Campaign.
Founded in 1849 by the Cumberland Presbyterian Church, Waynesburg University is located on a traditional campus in the hills of southwestern Pennsylvania, with three additional sites located in the Pittsburgh region. The University is one of only 22 Bonner Scholar schools in the country, offering local, regional and international opportunities to touch the lives of others through service.
# # #
Ashley Wise, Director of University Relations
724.852.7675 or awise@waynesburg.edu