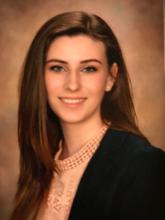 John D. Woodward, Jr., a Waynesburg University trustee, recently established the Woodward Family Endowed Scholarship Fund for Waynesburg students.
Woodward's goal is to honor his parents, both lifelong residents of the Charleroi community.
"My late father, my mother, and I were all educated in the Charleroi Area public schools," Woodward shared. "I wanted to honor my parents by enabling a Charleroi student to attain a first rate education. A scholarship to Waynesburg University was the natural choice in light of its core values of faith, service and learning."
The scholarship will be available to students from Charleroi Area High School who have displayed good character, academic promise and a commitment to the community demonstrated by, among other things, academic performance, public service, volunteer work and extracurricular activities.
Preference will be given to students who are currently in good standing at the Charleroi Station 33, Fallowfield Township Station 47 or Lock 4 Station 22 Volunteer Fire Departments and submit a letter of recommendation from an appropriate fire company official.
All eligible students must also have and maintain a 3.0 GPA or higher.
The 2018-2019 recipient of the Woodward Family Endowed Scholarship is Tegan Payne, a freshman nursing major at Waynesburg, and the daughter of William and Tiffany Payne of Monongahela, Pennsylvania.
"I am absolutely honored to receive such a generous scholarship from the Woodward Family," said Payne. "This scholarship will greatly help me achieve my plans of obtaining a four-year degree through Waynesburg University."
Throughout high school, Payne was active in a wide range of clubs, including the STEM Club, History Club and Foreign Language Club. She also was the lead wiring engineer for the school robotic team, president of the Astronomy Club, and founder and president of the Rocketry Club.
Currently, she participates in multiple worship teams in local churches and volunteers at Waypoint Youth and Community Center, a youth center in West Newton, Pennsylvania, started by her friends.
About Waynesburg University
Founded in 1849 by the Cumberland Presbyterian Church, Waynesburg University is located on a traditional campus in the hills of southwestern Pennsylvania, with three additional sites located in the Pittsburgh region. The University is one of only 22 Bonner Scholar schools in the country, offering local, regional and international opportunities to touch the lives of others through service.
Scholarship Information
To learn more about the Woodward Family Endowed Scholarship or other available scholarships, contact the Office of Admissions at 1-800-225-7393.