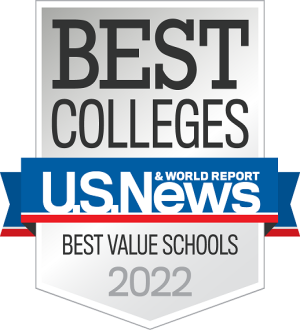 Waynesburg University continues to be a Best Value School, ranked among the top ten best values of both private and public universities in the northern United States by U.S. News & World Report in their 2022 rankings.
Ranked No. 8 on U.S. News & World Report's Best Value Regional Universities North list, the University qualified as a 2022 Best Value School in recognition of its high-quality academic programs combined with low costs.
"Waynesburg University's history of recognition for value continues with U.S. News & World Report's 2022 rankings," said Waynesburg University President Douglas G. Lee. "This ranking highlights our dedication to ensuring that high-quality, Christian education is accessible to all qualified prospective students."
Released today, U.S. News & World Report's 2022 Best Value Schools Ranking examined the following four variables: ratio of quality to price; need-based aid; percentage of need-based aid recipients awarded scholarships or grants; and the percentage of a school's total costs for 2020-21 covered by the average need-based scholarships or grants to undergraduates.
Tuition, room and board at Waynesburg is approximately $11,000 below the national average for private, non-profit, four-year colleges, and more than 90 percent of Waynesburg students receive some form of financial aid each year.
Waynesburg University was also included on U.S. News & World Report's "Best Regional Universities – North" list, on which it has climbed more than 20 spots over the past four years, as well as the "Top Performers on Social Mobility" list for the Northern Region.
In addition, the University was ranked a "Best for the Money" in College Factual's recent 2021 "Best Colleges Nationwide" ranking. In this ranking, Waynesburg was in the top 5.5% nationwide.
Value and Rankings
As attention on higher education is turning toward outcomes and fiscal responsibility, new rankings systems that focus primarily on value and job placement are being developed. Consistently ranked as a top school within these systems, Waynesburg University has emerged as a national leader in educational value.