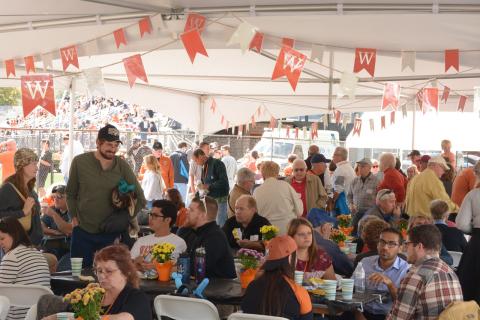 Waynesburg University will host its annual Homecoming celebration Friday, Oct. 5, and Saturday, Oct. 6. The weekend will invite alumni, staff, faculty and students to join together for a variety of events.
"Homecoming is a great opportunity for alumni to return to campus, reconnect with former classmates and even meet graduates from different eras," said Dave Floyd, manager of development and alumni relations. "Not only can alumni enjoy themselves and reminisce of days past, but they can also experience the University and campus as they are today and hear about what lies ahead in the future."
During the two-day celebration, the University will sponsor its 22nd Annual Waynesburg University Homecoming 5K Run and Walk and a 50th Reunion Brunch for the Class of 1968, hosted by President and Mrs. Lee at their residence.
At the 1:30 p.m. football game on Saturday, the Alumni Tent will be open during halftime and the Family 5th Quarter Steak Cookout will take place immediately following the game.
The 7th Annual JacketFest will be held in Johnson Commons beginning at 10:30 a.m. on Saturday, October 6. This is a family friendly event in which current students and alumni can connect. Various Waynesburg University clubs and organizations will be present to offer something unique and entertaining.
On Saturday, the Paul R. Stewart Museum (located in the lowest level of Miller Hall) will be open for tours. The main exhibits include Native American pottery, New Geneva glass, Greensboro pottery, world-class mineral specimens and numerous displays featuring the rich history of Waynesburg University. The Visitors Center will also feature a new exhibit entitled "A Campus GROWS: 1849-Present," which chronicles the evolution of Waynesburg's buildings.
Registration for many of the Homecoming events is either suggested or required.
Founded in 1849 by the Cumberland Presbyterian Church, Waynesburg University is located on a traditional campus in the hills of southwestern Pennsylvania, with three additional sites located in the Pittsburgh region. The University is one of only 21 Bonner Scholar schools in the country, offering local, regional and international opportunities to touch the lives of others through service.
# # #
Ashley Wise, Director of University Relations
724-852-7675 or awise@waynesburg.edu
Schedule of Events
Friday, October 5
Noon – Golf at Greene County Country Club (reservations required)
2 p.m. – eHIVE (Entrepreneurial Hub for Innovative Ventures and Endeavors)  Opening & Overview
2 p.m. to 3 p.m. – Walking History Tour (reservations suggested)
3 p.m. to 5 p.m. – President's Reception at President and Mrs. Lee's home (reservations required)
4 p.m. –Women's Tennis Match
7 p.m. –Women's Volleyball
7 p.m. to 9 p.m. – All Alumni Celebration at the Greene County Country Club (reservations suggested)
---
Saturday, October 6
8:30 a.m. – 22nd Annual Waynesburg University Homecoming 5k Run and Walk (registration begins at 7:30 a.m. in the Goodwin Performing Arts Center)
9 a.m. to 1 p.m. – Paul R. Stewart Museum Open House
9:30 a.m. to 10:30 a.m. – Walking History Tour (reservations suggested)
10:30 a.m. to 2 p.m. – All Alumni Check In at Johnson Commons (or John F. Wiley Stadium from 12:30 p.m. to 2 p.m.)
10:30 a.m. to 12:30 p.m. – Jacketfest in Johnson Commons (bring your family and explore the unique offerings of Waynesburg University clubs and organizations)
10:30 a.m. to 12:30 p.m. – Come-and-Go Brunch in Benedum Dining Hall
11 a.m. to 12:15 p.m. – Class of 1968 Brunch with President and Mrs. Lee at their home (reservations required)
11 a.m. to 12:30 p.m. –Chemistry and Forensic Science Reunion in the Stewart Science Hall
1:30 p.m. – Football Game: Waynesburg University Yellow Jackets vs. Carnegie Mellon University at John F. Wiley Stadium
Halftime – Alumni Tent at the Back Gate
Post-Game – Family 5th Quarter Steak Cookout at the Back Gate (reservations required)