Waynesburg University celebrated Homecoming Sept. 29 through Oct. 2 with a variety of virtual and in-person events. The weekend celebration also included the crowning of Andrew Gordon and Alexandra Morar as the 2021 Homecoming King and Queen, respectively.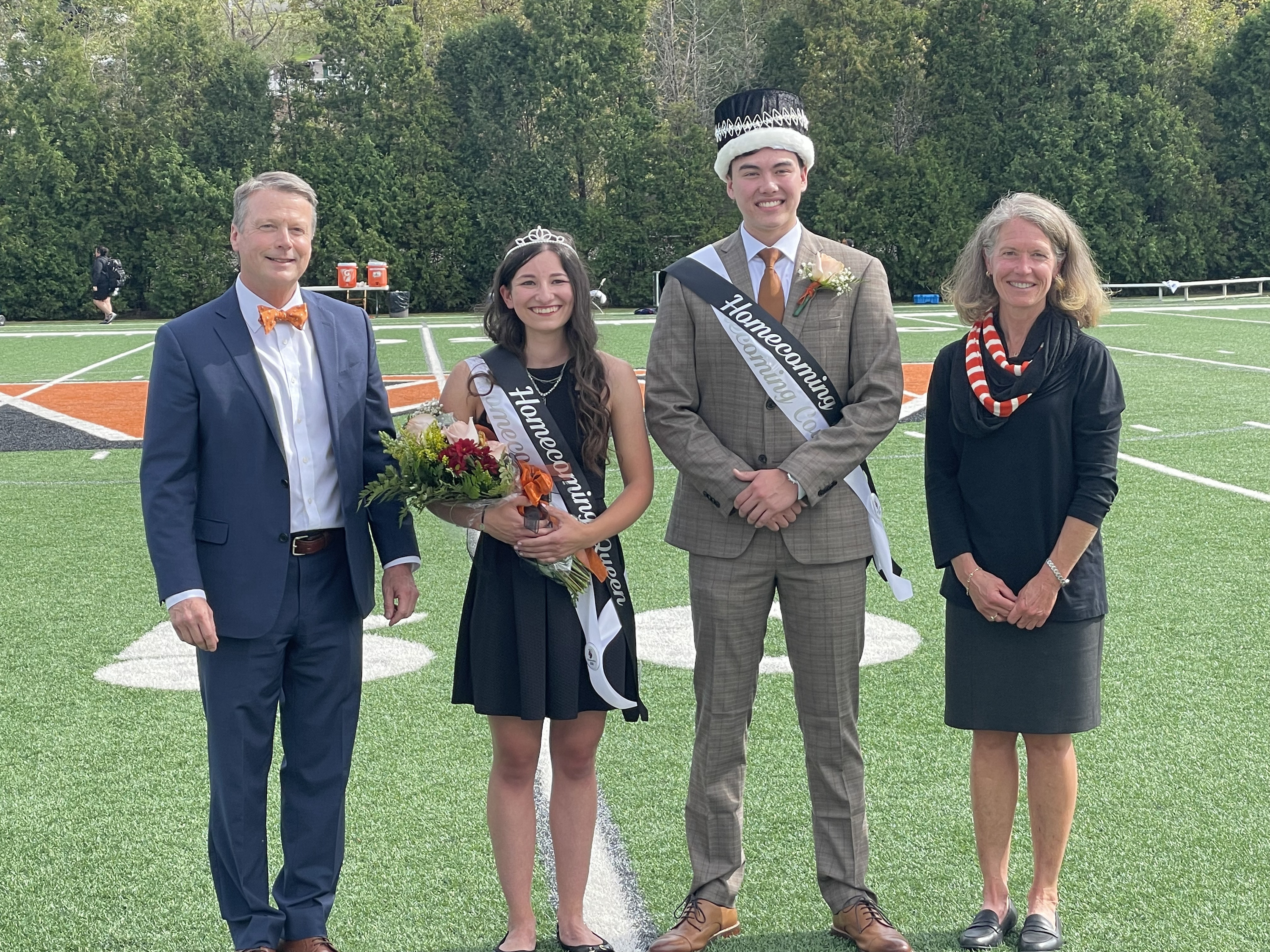 Gordon, son of Neil and Elvie Gordon of Strongsville, Ohio, is a senior chemistry (biochemistry) major. He is also pursuing a minor in biology.
"I am in awe that I had the opportunity to represent the Class of 2022," said Gordon. "It has been such an honor to walk beside my peers and build relationships with them over these past four years."
At Waynesburg, Gordon is a member of the American Chemical Society (ACS), American Medical Students Association (AMSA) and Biology Club. He also sings with the Lamplighters Touring Choir and the Chapel Worship Team.
Gordon is a Waynesburg University Student Ambassador (WUSA) as well as an academic tutor.
He is the president of the Biology Club, secretary for the Lamplighters Touring Choir and vice president of Waynesburg's ACS chapter. Gordon also previously served as president of the University's AMSA chapter.
"Waynesburg University has allowed me opportunities [that] have bolstered my abilities to mentor and communicate effectively with people from all walks of life," shared Gordon. "I have also grown in increasing my ability to serve others. I have been fortunate to [be] with patients, nurses and physicians alike as I minister to others and glorify God through service."
Gordon is Waynesburg's first RIBS (Research Initiatives in Biomedical Sciences) Scholar, a program that awards students with a research stipend and the opportunity to present their research locally and nationally.
The scholar program was the result of a $225,000 grant awarded to Dr. Takaski Suyama earlier this year to supplement traditional coursework in the biomedical sciences with novel and authentic experiences. The program launched in the fall of 2021.
Gordon plans to attend medical school next fall with plans to become a physician and one day open a clinic of his own in an underserved community.
Morar, daughter of George Morar and Elizabeth Morar of Boardman, Ohio, is a senior sociology (political science) major and a history major. She is seeking a minor in Spanish.
Morar is a Stover Scholar and part of the Honors Program. She is a member of Sigma Tau Delta, an English Honor Society; Student Senate; and the Chapel Worship Team, in addition to being a math and history tutor, a writer for the Yellow Jacket and a Campus Ministry assistant.
During her sophomore and junior years, Morar was a cheerleader for the Yellow Jackets.
She is president of Sigma Tau Delta, co-leader of the Chapel Worship Team, a Resident Assistant and a Senior Class Senator. Morar has held a Student Senate position all four of her years at Waynesburg, including being a Freshman Class Senator and a Junior Class Senator, as well as holding the position of treasurer her sophomore year.
During the spring 2020 semester, she studied abroad in Sevilla, Spain.
"It is such a blessing to be honored with the title of Homecoming Queen," said Morar. "I am beyond grateful to have impacted so many lives in this beloved community. Waynesburg has been my true home these past few years."
Morar is currently in the process of applying for acceptance into the Peace Corps and to be a Rhodes Scholar.
"I am hoping to pursue one of these options or another fellowship next fall," she added. "I aim to begin a career with journalism and later go into law school for civil rights."
Her ultimate goal is to work in Congress to improve the foster care system and to promote human rights.
"I have been touched by the lives and stories of so many students and staff members," Morar shared. "Being able to make a difference here and show God's light to others fills my heart with so much joy and gratitude. Waynesburg will always hold a special place in my heart."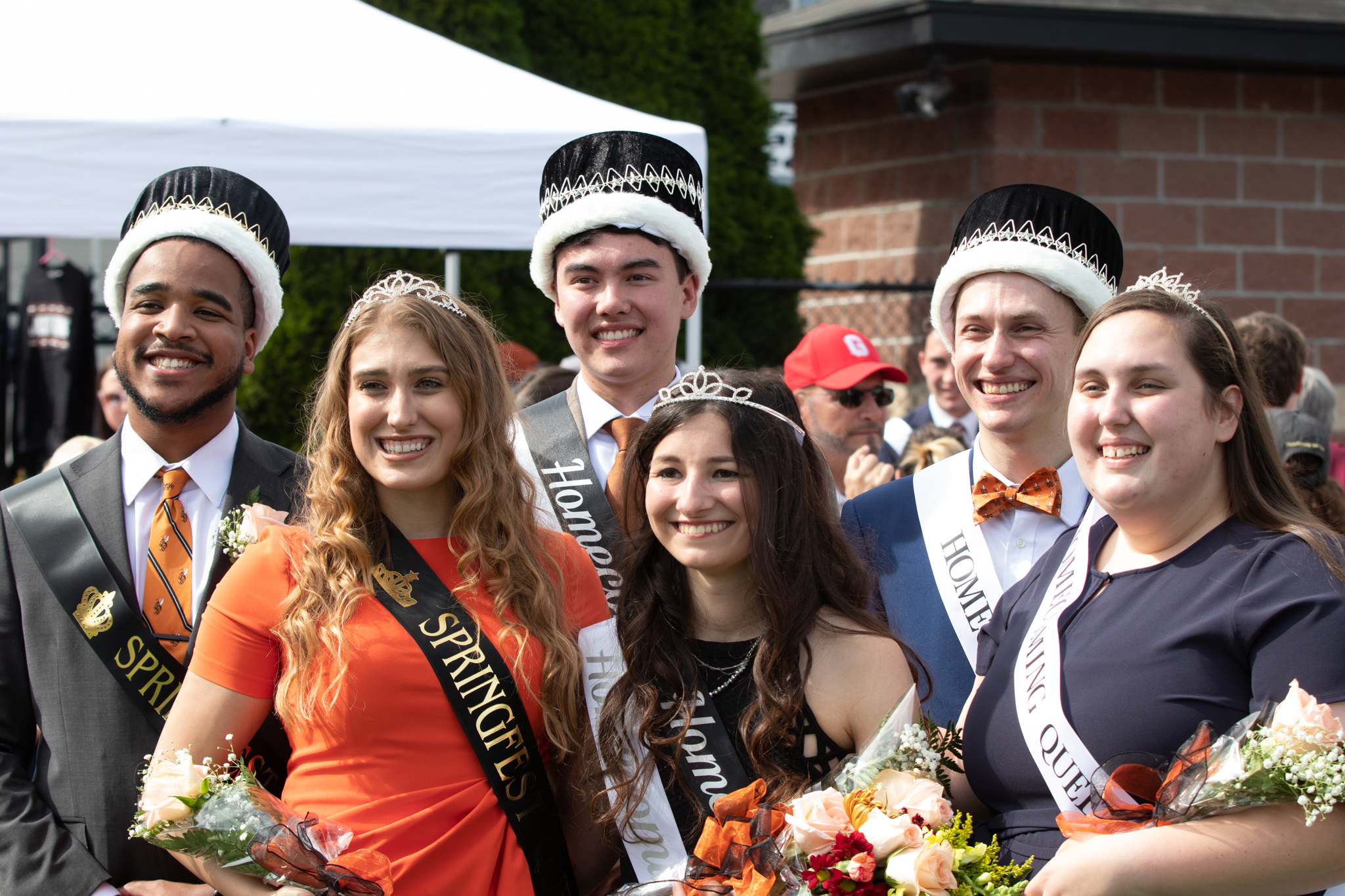 The Homecoming experience kicked off with two days of virtual programming for alumni. The first day featured a Waynesburg University general update from President Douglas G. Lee and an athletics huddle with Brett Shimek, head softball coach, and Perry Cunningham, head baseball coach.
The second day included a virtual panel discussion with key faculty and staff members who discussed new developments and plans for the future and the popular virtual trivia night.
Traditional in-person events, which haven't been held since the fall of 2019 because of the coronavirus pandemic, included an alumni golf event; the all-alumni celebration and class reunion, which honored class years ending in 0, 1, 5 and 6; and the 25th Annual 5K Run/Walk.
A 50th-anniversary celebration for the classes of 1970 and 1971 was also held.
Unique to this year's festivities was the grand opening of The Nest, Waynesburg's new campus store that features an assortment of all-new University merchandise. The store includes an upstairs area, named Rudy's Place, where students can enjoy a games and gathering space. Learn more about The Nest
All in-person Homecoming events were held in compliance with the Keep Waynesburg Well Health and Safety Plan, which can be viewed at waynesburg.edu/keepwaynesburgwell.