July 24, 2020, at 4:25 p.m. (athletics information)
July 23, 2020, at 3 p.m. (additions: resource articles, FAQs, myConnect confirmed case information)
July 10, 2020, at 4:10 p.m. (Keep Waynesburg Well Plan)
June 18, 2020, at 11:00 a.m. (addition: a June 8 letter from the President)
June 11, 2020, at 11:30 a.m. (Updated FAQs)
May 29, 2020, at 12:20 p.m. (Updated FAQs)
May 13, 2020, at 9:40 a.m. (Updated FAQs)
May 11, 2020, at 3:50 p.m. (Updated FAQs)
May 8, 2020, at 11:30 a.m. (addition: a letter from the President)
April 27, 2020, at 11:10 a.m. (addition: a letter from the President)
April 22, 2020, at 4:30 p.m. (Updated FAQs)
April 17, 2020, at 2:45 p.m. (Updated FAQs)
April 16, 2020, at 3:10 p.m. (Updated FAQs)
April 8, 2020, at 2:04 p.m. (Updated FAQs)
March 30, 2020, at 3:50 p.m. (edited to add a letter from the President; updates to policies; campus restrictions; and updates to FAQs)
March 21, 2020, at 10:50 a.m. (addition: a letter from the President)
March 18, 2020, at 5:15 p.m. (addition: a letter from the President to the Class of 2020 regarding commencement)
March 17, 2020, at 7:50 p.m. (addition: bookstore and book rental information to FAQ section)
March 16, 2020, at 3:40 p.m. (edited to add a letter from the President; updates to policies; campus restrictions; and updates to FAQs)
March 16, 2020, at 10:19 a.m. (addition: All students are required to submit a form designating whether they are staying or leaving campus. See below for links.)
March 13, 2020, at 4:30 p.m. (edited to add cancelled events)
March 13, 2020, at 12:56 p.m. (edited to add a letter from the President; Interim Changes to Academics, Housing and Events; contact information)
Originally published: March 4, 2020, at 12:20 p.m.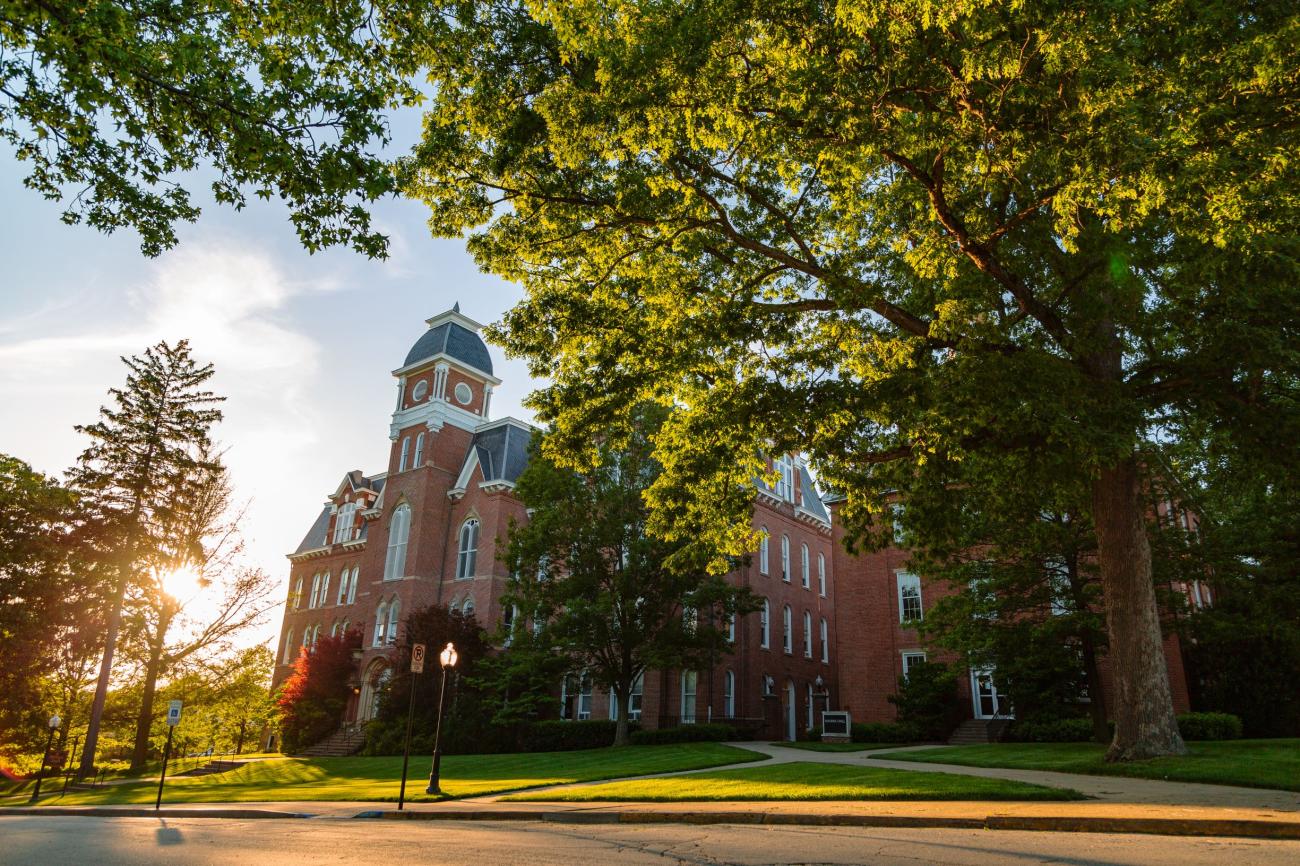 Waynesburg University will resume on-campus operations, activities, and services on July 15 and in-person instruction on August 24.
Working together, Waynesburg University has developed a comprehensive, practical, and adaptable health and safety plan in response to the COVID-19 pandemic that offers students the best possible learning experiences afforded at a Christian liberal arts institution, while at the same time protecting the safety and well-being of students, faculty, staff and the surrounding Waynesburg community.
Safeguarding Waynesburg University and the surrounding community
The Keep Waynesburg Well Health and Safety Plan is our comprehensive and flexible plan to protect the safety of the Waynesburg University campus community and the surrounding community by addressing strategies to mitigate the risk of the spread of COVID-19. 
Waynesburg University's plan is nimble and flexible enough to adapt to the changing demands once all students and employees return to campus; therefore, changes to the plan, personnel assignments, risk management measures, and in-person instructional accommodations will be implemented in the best interest of the University and student safety as deemed necessary by the University's Emergency Response Team and/or required by public health officials. 
Waynesburg University takes its obligation to lessen the spread of COVD-19 very seriously and needs the commitment of all members of the campus community.  To that end, the University reserves the right to remove any individual from campus and/or suspend them from the University or terminate their employment if there is a failure to comply with the provisions of this plan. 
Keep Waynesburg Well Strategies
Coordination with Local Public Health Officials
Washington Health System Partnership
We're in this together
Waynesburg University cannot guarantee an environment free of COVID-19 risks, and the strategies addressed in the University's plan recognize that reality. While much has gone into this effort to protect the WU community, we trust that each member of the WU campus community will ultimately accept responsibility for their own health and safety and act in a manner that demonstrates respect and consideration for those around them.

Hygiene, sanitation and face coverings on campus
Waynesburg University follows the public health experts' guidance which is to continue to emphasize the importance of personal hygiene, cleaning protocols, face coverings, and personal protective materials (when warranted) as a way to reduce the spread of COVID-19.
Two reusable face coverings and two pairs of gloves will be provided to every student and employee for their personal use. Additional gloves, perishable supplies, cleaning materials, disinfectants and necessary PPE will be made available as needed for the entire campus community to ensure the safest environment possible for all on campus.
The University has also designated a COVID Health & Safety Officer who is in charge of carrying out the University's COVID-19 safety procedures. Please direct questions about this plan and its implementation or concerns related to individuals failing to follow this plan to the COVID Health and Safety Officer.
COVID-19 Health & Safety Officer

Self-Assessment Screening Tool / Tracing and Tracking Protocol 
Waynesburg University will remain diligent regarding the presence of COVID-19 within the campus community and the possible resurgence of the virus going forward. To that end, the University will continue to monitor the spread of the virus by requiring students, faculty, staff, and visitors to fill out and submit a questionnaire assessing their health status on a daily basis. The University reserves the right to deny any student, faculty, staff, or visitor the right to access the campus if they fail to submit a questionnaire.
Should someone on campus become infected they will be required to quarantine as provided herein. In addition, the University has tracing and tracking protocols in place to contain and minimize the impact on the campus community and surrounding community. The Tracing Team will implement an established internal mechanism to rapidly, actively, and accurately trace and track the contacts of individuals who test positive for COVID-19 through a combination of interviews and technology.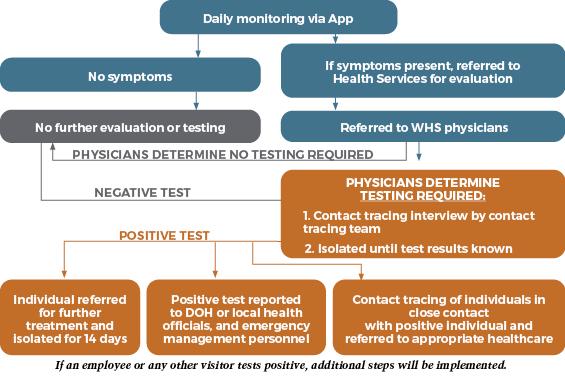 SELF-ASSESSMENT SCREENING TOOL
Waynesburg University's health and safety plan does not mandate the university-wide testing for COVID-19 as a condition of return to campus for students or employees, nor does the CDC recommend universal testing for all students. 
Waynesburg plans to implement a best-practice app-based self-assessment screening tool available for mobile devices. We intend that all students, faculty, staff, and visitors will use this screening tool as the base-line screening and on-going assessment to determine the following: level of risk and possible exposure; if further temperature taking, testing, or self-isolation may be needed; and if limited access to buildings, activities, work, classes, and events is warranted. If any student, faculty, staff member, or visitor exhibits symptoms, the University reserves the right to prohibit him or her from entering campus or to limit access to buildings, activities, work, class, and events until cleared to do so by a physician as set forth below.

Social Distancing Interventions and Modifications to Physical Spaces 
Social distancing means taking all efforts to de-densify groups, gatherings, crowds, etc. Close contact includes two or more people gathering in close proximity (within 6 feet) with or without face coverings for more than 10 minutes of sustained engagement (talking, eating, drinking, etc.). 
Social distancing also involves limiting any crowd size to no more than 250 people or not to exceed 50% of that venue's capacity, whichever is the lesser. Social distancing generally does not apply to members of one's own family or domicile unless someone in that group is COVID-19 positive, so this exception would apply to paired students rooming together in dorms or apartments. 
Waynesburg University worked with VEBH Architects to de-densify academic, non-academic, and residential spaces and to develop new protocols for ingress, egress, movement through buildings, and to limit congestion in common areas, such as foyers, stairwells, and hallways. The University is also assessing ways to provide sufficient and effective ventilation to physical spaces by supplementing general ventilation where possible, supplying clean outdoor air by opening doors and windows, and minimizing the re-circulation of air.
Faculty, staff and students shall be required to comply with social distancing protocols and maintain social distancing at all times in public areas on campus. The University reserves the right to remove from campus anyone who fails or refuses to comply with social distancing protocols.

Adjustments to Academic, Personnel and Residence Life Policies and Processes
Waynesburg University's policies pertaining to academics, personnel and residence life have been assessed and adjusted accordingly to be in compliance with CDC best practices and recommendations by the Pennsylvania Department of Education. The University has established criteria for assessing vulnerable populations and a process for accommodating vulnerable individuals.

Modifications to Calendars and Course Delivery Options 
Waynesburg University has implemented necessary modifications to courses, schedules and academic calendars in order to adapt to the anticipated changing transmission levels in Fall 2020 and Spring 2021. 
Fall 2020 Calendar Alterations

Polices related to Visitors, Contractors, Vendors, etc.
Waynesburg University is mindful of the important connection the University has within the Waynesburg community as well as all of the visitors, guests, contractors and outside entities that do business with the University.
Vendor contracts have been reviewed and/or renewed during this COVID-19 era to ensure preexisting practices are safe under current health and safety mandates.
External Resources
FOR Individuals
Waynesburg University is committed to providing resources to the WU community as we navigate the COVID-19 era together.
FOR THE UNIVERSITY
The University has been following guidance issued by federal, state and local agencies. Some of these resources are linked below.
Orientation
We are excited to welcome our new students to campus! New Student Orientation, Aug. 20-23, will be a combination of in-person and remote activities. New students should look for additional information via email.
Athletics
Fall 2020 athletics at Waynesburg University will proceed in accordance with the PAC's plans, which includes the postponement of high- and medium- contact sports.
Learn more
Updates
Details about programs, activities, and events will be shared relevant webpages for those areas, so check our website often for updates.
The Path to the Present
The messages below from President Douglas G. Lee share new updates as well as previous ones.
July 10, 2020, 4:10 p.m.
Dear Members of the Waynesburg University community,
We have been working diligently over the last several months with a number of individual teams within our University as well as experts outside of our University to create our "Keep Waynesburg Well" health and safety plan, which can be found on this webpage. It serves as an addendum to the WU Emergency Operations Plan, and is intended to mitigate risks associated with COVID-19 for all in our University community and as we engage with the community surrounding WU.
Following federal, state, local, and regulatory guidelines, including guidance issued by the Centers for Disease Control and the Pennsylvania Department of Education, we are making adjustments and modifications in all areas on campus to mitigate risks. We are also coordinating with state and federal associations representing peer institutions on best practices for returning to campus, as well as outside experts in science, medicine, architectural, logistics, and legal areas. In addition, we have enhanced our formal partnership with Washington Health Systems to ensure medical consultation, treatment and testing is available for members of our community.
In general, modifications include:
A modified academic calendar to attempt to avoid a second wave of COVID-19;

Practices related to hygiene, sanitation, and wearing face coverings on campus;

Protocols for the preparation of symptom questionnaires, testing, contact tracing, and quarantining;

Social distancing interventions and modifications to facilities;

Adjustments to campus policies, such as academic, housing, employee, and other policies;

Modifications to course modalities, schedules, and calendars; and

Other strategies to create an environment conducive to a health, safe, and inclusion.
This [plan] is meant to be proactive and as practical and adaptable as possible to address the ever changing scenarios presented by COVID-19. Responding to COVID-19 is a responsibility that is shared by everyone in the University community. We believe this plan provides guidance on best practices that each of us must implement to help minimize the risks presented by COVID-19. It is incumbent upon each of us to do our part to follow these guidelines and make them part of our daily habits, not just for our own safety but for the safety of those around us.
In closing, I want to take the opportunity to thank the many people that have worked so diligently in creating these guidelines. COVID-19 has presented unprecedented challenges that we will overcome by working together. I am confident that our commitment to the strong mission of the University and our mutual concern and care for each other will guide us as we return to campus for the fall semester.
Sincerely,
Douglas G. Lee
President
April 27, 2020, 11:00 a.m.
March 26, 2020, 12:41 p.m.
March 21, 2020, 10:50 a.m.
March 18, 2020, 5:15 p.m.
March 16, 2020, 3:40 p.m.
March 13, 2020, 12:55 p.m.
March 11, 2020, 5:40 p.m.
Stay in touch
The University will utilize this webpage as our primary source for information pertaining to guidelines to mitigate risks in light of COVID-19. The University is committed to communicating in a transparent and timely fashion. In addition to this site, email will also be used to note changes and updates to this document. Thank you for your continued flexibility with this ever-evolving situation.
For the latest updates concerning COVID-19, please see the links below.