Image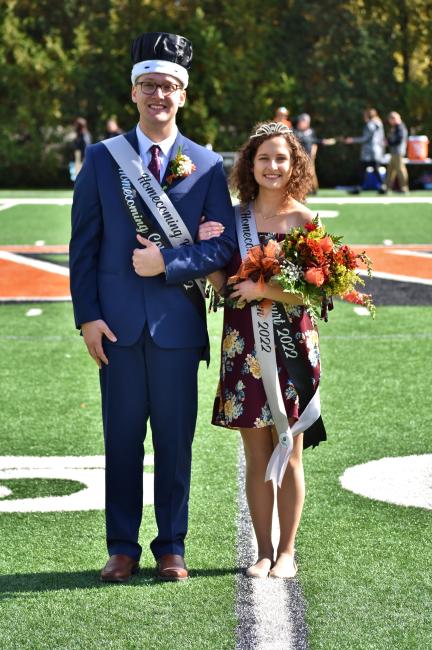 Waynesburg University held its annual Homecoming celebrations Thursday, Oct. 6, through Saturday, Oct. 8. The 2022 Homecoming King and Queen, Gabriel Reed and Rebecca Shank, were crowned during the Saturday football game.
Reed, son of James and Joyce Reed of Belle Vernon, Pennsylvania, is a senior biology (pre-dentistry) major.
"Being named Homecoming King makes me feel as though I have made an impact on many people around Waynesburg University," said Reed.
On campus, Reed is active in several clubs and organizations. He is a member of the American Medical Students Association (AMSA), the American Chemical Society (ACS), the Biology Club, the Lamplighters Touring Choir and a chapel team leader.
"I think I have truly opened up and become a unique person on this campus," shared Reed. "I wouldn't be where I am today if it wasn't for my friends, family and faculty that have pushed me and supported me along the way to my senior year."
Reed plans to further his education by going on to obtain his dental degree after graduation.
Shank, daughter of Dean and Cindy Shank of East Berlin, Pennsylvania, is a senior psychology major. She is also pursuing minors in childhood development and political science.
"I am very humbled and honored to have been named Homecoming Queen," said Shank. "It has been such a blessing to see how God has allowed me the opportunity to build so many meaningful, intentional connections within our campus community."
Shank is a Stover Scholar, a member of Student Senate and serves as a vocalist and president of Upper Room. She is also a Peer tutor, tutor for the Writing Center and participates in campus Bible study. In her free time, she enjoys volunteering during the Center for Service Leadership's Sundown Service.
"During my four years, I have grown so much as a student, a friend, an individual and – most importantly – as a Christian," shared Shank. "Since coming to Waynesburg, I have grown more confident and more intentional in sharing my faith with those around me and not being intimidated by deeper conversations. Waynesburg has provided me a wonderful space to grow and learn how to be more intentional with my relationship with God and relationships with others."
After graduation, Shank intends to obtain a master's degree in counseling with the goal of becoming a child and adolescent therapist.
Waynesburg's Homecoming events kicked off with two virtual events Thursday, which included a welcoming ceremony and virtual trivia night.
A special in-person reunion was held Friday night at the Denny House where the classes of 1977, 1982, 1987, 1992, 1997, 2002, 2007, 2012 and 2017 were honored and addressed by President Douglas G. Lee.
The class of 1972 was honored during a 50th reunion brunch hosted by President and Mrs. Lee on Saturday.
Other in-person events that day included reunions for graduates of the Department of Biology, Environmental Science and Health Science, Bonner Scholars, Stover Scholars, and the track and field and cross country teams; the 26th annual 5K Run/Walk; alumni activities and check in at the Nest campus store; and a 5th Quarter Alumni Gathering following the football game.