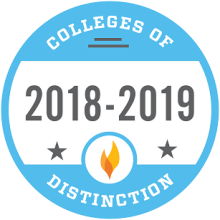 Waynesburg University has been named a national College of Distinction for the third consecutive year. The award recognizes American higher education institutions for their commitment to the implementation of High-Impact Educational Practices.
The University was also named a Christian College of Distinction, a Pennsylvania College of Distinction and, for the first time, a College of Distinction in Business, Education and Nursing.
"We are absolutely thrilled to recognize Waynesburg University as a College of Distinction for its effective dedication to student success," said Tyson Schritter, chief operating officer for Colleges of Distinction. "Colleges of Distinction is so impressed with Waynesburg's curriculum, which is enriched with the kind of High-Impact Educational Practices that are most crucial for student development. Such innovative engagement is preparing the next generation of young adults to thrive after college."
According to Colleges of Distinction, the selection process includes a review of each institution's freshman experience and retention rates, alumni success, strategic plan and student satisfaction, among other factors. Schools are also accepted on the basis of meeting requirements in four categories, including student engagement, teaching, community and outcomes.
"Colleges of Distinction is far more than a ranking list of colleges and universities," said Schritter. "We seek out the schools that are wholly focused on the student experience, constantly working to produce graduates who are prepared for a rapidly changing global society. Now recognized as a College of Distinction, Waynesburg University stands out in the way it strives to help its students to learn, grow and succeed."
About Colleges of Distinction
Since 2000, the Colleges of Distinction website and guidebook have honored schools throughout the U.S. for their excellence in undergraduate-focused higher education. The cohort of schools in the Colleges of Distinction consortium distinguish themselves through their focus on the undergraduate experience. The website and annual guidebooks provide dynamic college profiles, customized tools, and resources for students, parents, and high school counselors. For more information, and to learn how to become a College of Distinction, visit CollegesofDistinction.com.
About Waynesburg University
Founded in 1849 by the Cumberland Presbyterian Church, Waynesburg University is located on a traditional campus in the hills of southwestern Pennsylvania, with three additional sites located in the Pittsburgh region. The University is one of only 22 Bonner Scholar schools in the country, offering local, regional and international opportunities to touch the lives of others through service.
Waynesburg University's Profile
For more information or to view Waynesburg's profile, click on the link below.