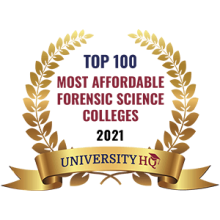 Waynesburg University was recently ranked among the Top 100 "Most Affordable Forensic Science Programs" in the country by UniversityHQ.
A range of data was used by UniversityHQ to generate their rankings, including the number of students receiving financial aid, tuition cost, graduation rates and other factors that, according to UniversityHQ, "give value to the degree."
To ensure consistent comparisons, UniversityHQ analyzed the same data from the same government sources to assess schools, including but not limited to the National Center for Education Statistics, the U.S Department of Education's College Scorecard, the U.S. Bureau of Labor Statistics and the private group, Payscale.
Forensic science is an interdisciplinary study of the applications of biology, chemistry, physics and law to criminal investigation.
Ranked No. 51, Waynesburg's forensic science major is one of five forensic programs at the University, which include forensic accounting, biology, chemistry and investigation. The forensic biology and forensic investigation majors were just added in the fall of 2019.
Learn more about our forensic programs