The Waynesburg University Players will present their annual fall play Wednesday, Nov. 6, through Saturday, Nov. 9, at 7:30 p.m. in the Goodwin Performing Arts Center.
Tickets are $3 for students, $5 for the community and free for faculty and staff. Reservations are encouraged and can be made by visiting waynesburg.ticketleap. com/farce.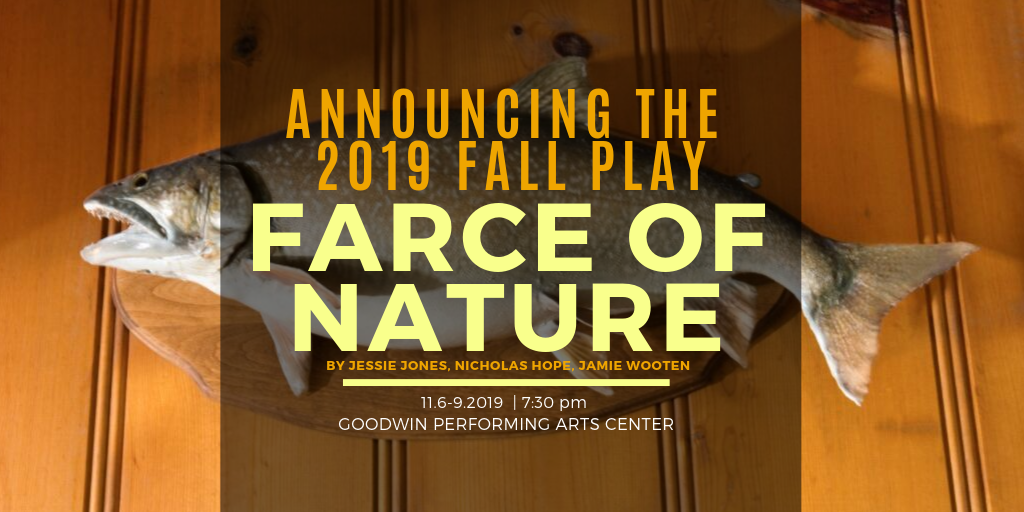 This year's play, "Farce of Nature," is a comedy by Jessie Jones, Nicholas Hope and Jamie Wooten. It is produced through special arrangements with Dramatists Play Service, Inc.
"If you enjoy a great comedy and want to laugh for 90 minutes, then this show is for you," said Professor of Theatre, Edward Powers. "It is also important to continue to support the performing arts in our community. Actors need an audience, and they work very hard for that audience."
"We have had a wonderful time preparing this comedy, and we can't wait to have that full house and entertain our audience; it is the audience that makes Theatre come alive," said Powers. "We look forward to seeing you at the Theatre."
The play is directed by Powers, who is assisted by Dr. Ronda DePriest, director of the Music Program, and Jim DePriest, multimedia specialist.
For more information, contact Powers at 724-852-3226 or epowers@waynesburg.edu.
---
CAST LIST:
D. Gene - Cory Tretinik, junior communication (electronic media concentration) major from Clarksville, Pennsylvania
Wanelle - Holly Hendershot, senior communication (journalism concentration) major from Manheim, Pennsylvania
Maxie - Diamond Price, sophomore entertainment arts management major (music concentration) from Scranton, Pennsylvania
Carmine - James Gallucci, sophomore biology (pre-dental/medical/veterinary) major from Burgettstown, Pennsylvania
Jenna - McKenna Mercier, sophomore criminal justice and psychology major from Meadville, Pennsylvania
Ty - Owen Fun, freshman athletic training major from Washington, Pennsylvania
Lola - Eden Koldys, junior psychology major from Smithfield, Pennsylvania
Sonny - Connor Hoffman, senior children and youth ministry major from Pittsburgh, Pennsylvania
Roxanne - Elizabeth Collings, freshman nursing major from Beaver County, Pennsylvania
Stage manager - Emma Herrle, sophomore public relations major from Butler, Pennsylvania
Stage manager - Elyse Morgan, freshman entertainment arts management major (theatre concentration) from Beaver Falls, Pennsylvania
Stage manager - Damian Campbell, sophomore criminal justice major from Wellsburg, West Virginia