Five Waynesburg University students were inducted into Gamma Sigma Epsilon (GSE), a national chemistry honor society, Wednesday, Dec. 7.
Students recently inducted into the University's GSE chapter, Rho Iota, include:
Kayla Gratton, a junior forensic science major

Schaelee Guy, a junior biochemistry major

Macie Hothem, a senior biology (pre-physical therapy) major

Kathryn James, a junior forensic chemistry major

Benjamin White, a junior biology (pre-physical therapy) major
"We are very proud of our students who earn membership into GSE," said Dr. Heidi Fletcher, professor of chemistry and the chapter advisor for Gamma Sigma Epsilon. "Recognizing them for their hard work in chemistry is a noteworthy achievement."
Three senior members of the chapter were also recognized and received their honorary graduation cords. Those students were Haley Ferricks (chemistry), Trevor Kotchman (biochemistry) and new inductee, Macie Hothem.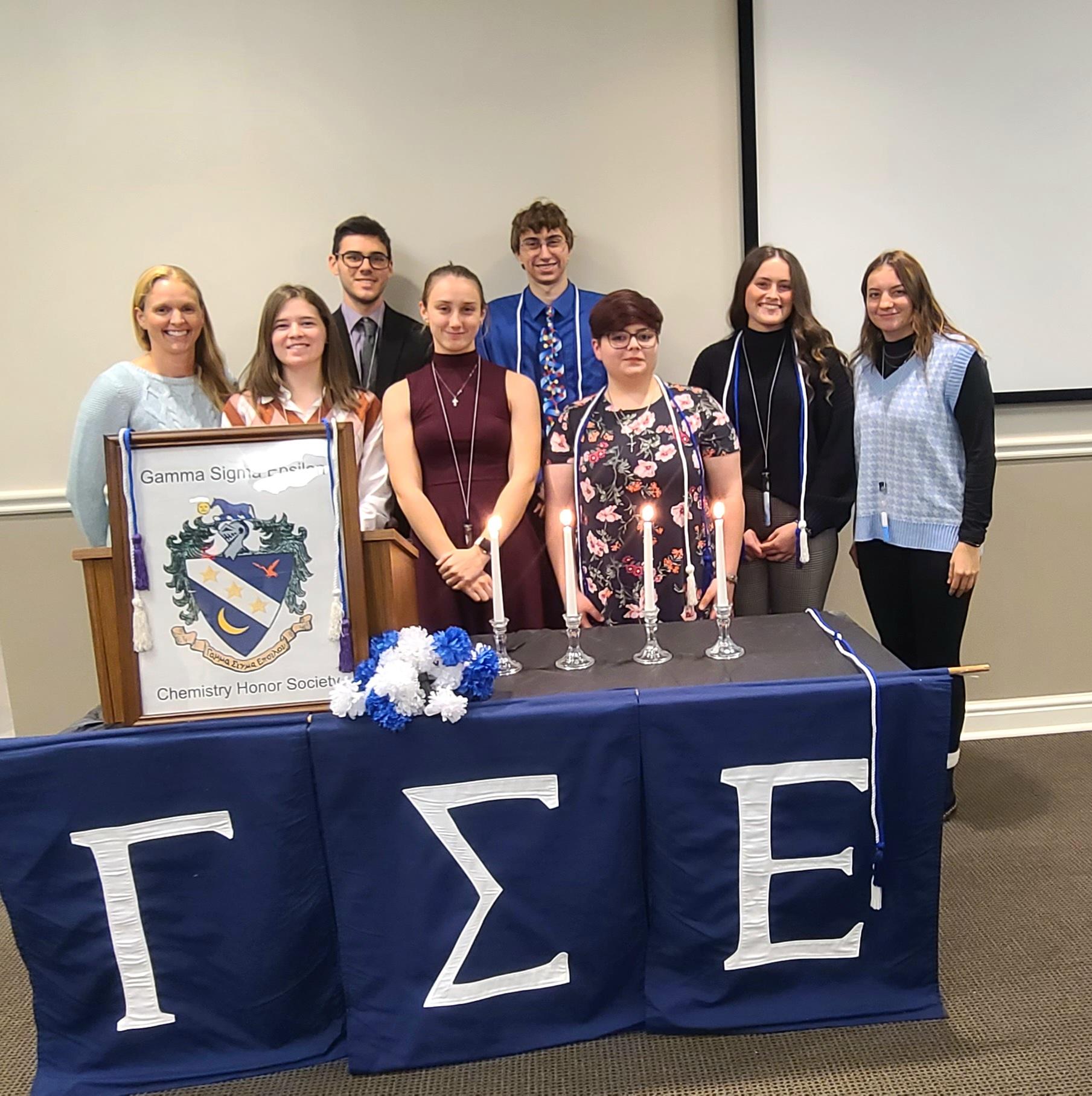 "The Waynesburg University GSE Chapter has been growing and working in conjunction with the American Chemical Society (ACS) student chapter to raise awareness of the importance of chemistry in everyday life," added Dr. Fletcher. "Our GSE chapter also promotes chemistry through chemistry demonstrations in our local schools every semester."
Students invited to join as members of GSE must have an overall GPA of 3.0 in chemistry and at least 16 credit hours of completed chemistry coursework. Currently, Waynesburg's chapter has seven student members.
Several benefits are available to students as members of GSE. Not only is this membership a notable addition to student resumes and graduate school applications, students are also provided the opportunity to travel to the biennial national GSE conference where they meet with other chapter members to discuss governance and scientific exchange.
In November, senior Trevor Kotchman travelled to Florida Gulf Coast University in Fort Myers, Florida, to represent and serve Waynesburg's chapter as the delegate to vote on issues for the Society. At the conference, Kotchman also presented his undergraduate research project and received a $50 John F. Conn Award.