Waynesburg University celebrated the 171st anniversary of its charter by the Commonwealth of Pennsylvania Tuesday, March 23, with a virtual convocation that featured remarks by Mark Harner ('79).
Introduced by Waynesburg University President Douglas G. Lee, Harner began his address with his story of becoming a Christ follower, which happened while he was a student at Waynesburg.
"It gave me meaning, purpose and peace in this life right now," said Harner.
As long as this institution places Christ first, we will thrive, and if each of us earnestly pursue Christ in our lives, we, too, will thrive."
He also shared a brief institutional history, exploring the University's founding Christian mission and years later, the transformation of the University back to its original Christian roots, which he says, is nearly unprecedented.
He cited former University presidents Paul R. "Prexy" Stewart and Timothy Thyreen in this transformation, as well as current President Douglas G. Lee.
"None of us should take for granted the wonderful leadership of President Lee," he said. "He is adeptly leading this University through difficult times in higher education, continuing to make Waynesburg unique in our offerings to our highly valued students."
The remainder of Harner's message centered around the distinction between worry and concern and how each either pulls us away or pulls us closer to Christ.
"There's a big difference between concern and worry," he shared. "With concern, we engage Christ…with worry, we take Christ out of the equation."
Referencing Matthew 6:27, Harner stressed that the antidote to the issue of worry is Jesus Christ – an earnest pursuit of Jesus Christ.
"Jesus was right, worry has never added anything positive to our lives," Harner stated.
He continued by encouraging listeners to embrace the idea that Jesus Christ is in the midst of every challenge that we face and that it is Christ who can pull us closer to Him through a challenging situation.
"As long as this institution places Christ first, we will thrive, and if each of us earnestly pursue Christ in our lives, we, too, will thrive," he concluded.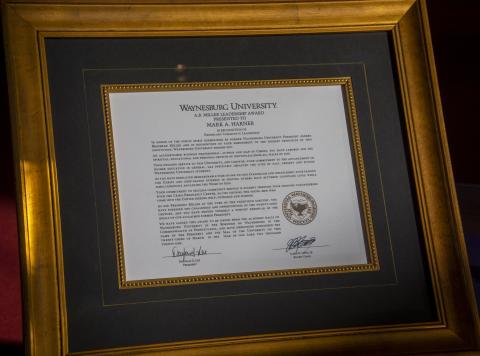 After Harner's speech, President Lee presented him with the A.B. Miller Leadership Award in recognition of exemplary community leadership.
The award, in the spirit of former President Alfred Brashear Miller, honored Harner as "an accomplished business professional, author and man of Christ" whose "ongoing service to this University, and likewise, commitment to the advancement of higher education in general, has positively impacted the lives of past, present and future Waynesburg University students."
Harner retired as Vice President of Finance from Waste Management, is a member and past board chair of the Waynesburg University Board of Trustees and most recently, authored his first book, "Living Uncommonly," which is aimed at helping people develop a more intimate relationship with Christ.
Also presented were the annual Lucas-Hathaway Teaching Excellence Awards, which recognize three outstanding Waynesburg University faculty members. Provost Dr. Dana Cook Baer announced the recipients: Jeremy Olisar, lecturer of music; Dr. Sherry Parsons, assistant professor of nursing; and Dr. Faith Musko, assistant professor of forensic science.