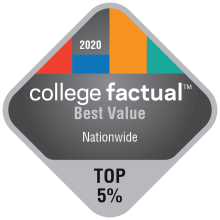 Waynesburg University has been named a "Best College for the Money" in College Factual's 2020 rankings. This designation marks the fourth consecutive year that Waynesburg has been recognized as a best value school by College Factual.
Ranked at No. 31 out of the 1,483 schools considered, Waynesburg sits in the top 2.1% nationwide. In Pennsylvania, the University ranks fifth out of the 111 schools on the list.
"What these recent rankings tell us is that our careful attention to mission, value and outcomes is greatly benefiting our students," said Waynesburg University President Douglas G. Lee. "We have worked fervently in recent years to ensure that Waynesburg University provides students an affordable, high quality educational choice in an era of rising costs for higher education."
College Factual ranks schools for best value by estimating the actual average cost for an undergraduate degree, using the quality results from the best colleges ranking and personalized factors, such as location, cost and financial aid.
Additionally, four Waynesburg academic programs were recognized as a "Best Value" nationwide. Communication, Criminal Justice and Nursing were ranked in the top 2%, and Psychology was ranked in the top 5%.
Criminal Justice and Nursing both ranked No. 2 in Pennsylvania, while Communication and Psychology both ranked No. 3 in the state.
This ranking closely follows Waynesburg University's recent ranking as No. 6 on U.S. News & World Report's Regional Universities North list for the second consecutive year. The University was also recently named to MONEY Magazine's "Best Colleges For Your Money" list for the fourth consecutive year.
Commitment to Mission, Values and Outcomes
Waynesburg University consistently receives accolades as a University of distinction for its mission, outcomes and value. Those same differentiators often drive students' decisions about education. With the world of higher education constantly changing, Waynesburg University continues to strategically evolve while remaining focused on these very important factors.