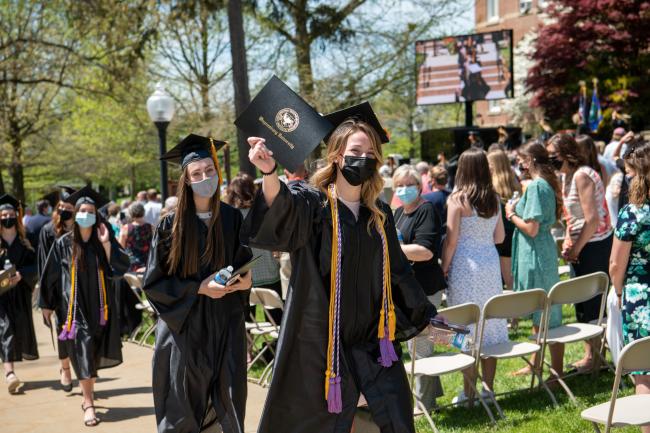 Waynesburg University honored the Class of 2021 during in-person commencement ceremonies on Saturday, May 1, and Sunday, May 2, on the Lawn of Miller Hall, honoring more than 400 undergraduate, graduate and doctoral students.
Four ceremonies were held over the two days in order to comply with state and federal guidelines. All four ceremonies were also live-streamed, and graduates were given the option to participate virtually if they were unable to attend in person. Virtual participants were honored at the in-person ceremony with their name announced and their photo showed on a large outdoor screen.
Lance Hyde, the Director of Global Inclusion and Diversity at Koppers, delivered the Commencement Address at the Graduate and Professional Studies ceremony on Saturday, and Rev. James Tinnemeyer, Senior Pastor at Southminster Presbyterian Church, delivered the Commencement Address at the three undergraduate ceremonies on Sunday.
During his address, titled "Bridging the Racial Divide Through Leadership," Hyde encouraged graduates to do whatever they can to create hope, a better life, and a better future for those who are less fortunate.
"And as you do this, not only will you be supporting Waynesburg University's mission to be transforming better communities and a better world for all of us, but you'll also be creating hope and giving someone an opportunity they otherwise may not have," Hyde said.
If each of you impact just one person, Hyde said, just imagine what impact that would make.
Rev. Tinnemeyer explored various definitions of the real world and how one prepares for it during his address, titled "Living in the Real World."
"Jesus's teachings are not meant to be proscriptive for living out there, but rather, descriptive of God's world – Jesus's vision for what it really looks like, who we really are in it, all of us, and how we live in it," Tinnemeyer shared.
Tinnemeyer cited Waynesburg's emphasis on pathways and vocation, rather than just a career or job; service as an integral part of life; and faith as the overarching framework to those components.
"Every bit of your learning and serving and doing here has been tied together with that common thread of preparing you for that divine calling of leading a life of purpose for the glory of God," Tinnemeyer said. "Yes. You all are well prepared for whatever world that we're talking about."
During the ceremonies, Tinnemeyer was awarded an honorary Doctor of Humane Letters degree, and Hyde was presented the Timothy & Carolyn Thyreen Service Leadership Award, which celebrates Timothy and Carolyn Thyreen's legacy of serving others and is presented to those who exemplify servant leadership in their daily lives, resulting in a transformational effect on their area of focus.
Graduates Nathan Jecelin of Baltimore, Md., and Cullen McElligott of Waynesburg, Pa., were commissioned Second Lieutenants in the Army of the United States of America during the 10 a.m. ceremony on Sunday.
In addition, Isaiah Skeete, criminal justice administration graduate from Sinking Spring, Pa., was awarded the inaugural Douglas G. and Kathryn D. Lee Servant Leadership Endowed Award during the 4 p.m. ceremony on Sunday. This award was established by the Waynesburg University Board of Trustees to honor the leadership and commitment of Douglas and Kathryn Lee to the University. It will be awarded each year to one graduating student who has demonstrated exceptional leadership qualities over the course of their time at Waynesburg University in the mission focus areas of faith, learning and serving.
The following graduates were named valedictorians:
Carly Breach from Madras, Oregon

Bailey Holt from Smithfield, Pennsylvania

Joshua Miller from Reedsville, West Virginia

Casidee Millero from Greensville, Pennsylvania

Aaron Sielski from Waynesburg, Pennsylvania
Miller, Millero and Sielski addressed the Class of 2021 at their respective ceremonies on Sunday, and graduate Vanessa Milagros-Guillen, Ph.D., addressed students at the Graduate and Professional Studies ceremony on Saturday.
A virtual baccalaureate ceremony was also held Saturday, May 1.