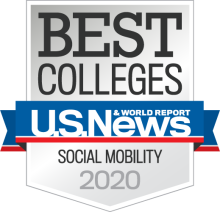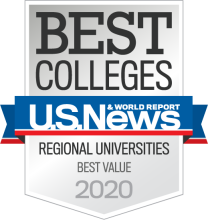 Waynesburg University continues to be a Best Value School, ranked among the top ten best values of both private and public universities in the northern United States by U.S. News & World Report.
Ranked No. 6 on U.S. News & World Report's Best Value Schools - Regional Universities North list, which placed it above all other universities in Pennsylvania, Waynesburg qualified as a 2020 Best Value School due to the high quality of academic programs combined with low costs.
Waynesburg University's strategy for the 21st century prioritizes growing our value as well as the high caliber of our academic programs."
"This ranking, which recognizes us as the premier institution for value in Pennsylvania, reinforces our reputation as a leader in that area," said Waynesburg University President Douglas G. Lee.
Released today, U.S. News & World Report's 2020 Best Value Schools Ranking examined the following three variables: ratio of quality to price; the percentage of all undergraduates receiving need-based scholarships or grants during the 2018-19 school year; and the percentage of a school's total costs for 2018-19 covered by the average need-based scholarships or grants to undergraduates.
U.S. News & World Report also published a new social mobility ranking, which measured how well schools graduated students who received federal Pell Grants. Pell Grants are usually awarded only to undergraduate students who display exceptional financial need. Waynesburg ranked No. 22 on the 2020 Top Performers on Social Mobility – Regional Universities North list.
According to the College Board, tuition, room and board at Waynesburg University is more than $13,000 below the national average for a private, non-profit, four-year college, and the University's student loan default rate of 4.0 percent is far below the national average of 10.8 percent.
Last month, Waynesburg University was named to MONEY Magazine's 2019 "Best Colleges For Your Money" list, which examined three primary factors, including quality of education, affordability and outcomes, for the fourth consecutive year. 
About Waynesburg University
Founded in 1849 by the Cumberland Presbyterian Church, Waynesburg University is located on a traditional campus in the hills of southwestern Pennsylvania, with an additional site for graduate and professional studies in Southpointe. The University is one of only 22 Bonner Scholar schools in the country, offering local, regional and international opportunities to touch the lives of others through service.
# # #
Ashley Wise, Director of University Relations
724.852.7675 or awise@waynesburg.edu
Value & Rankings
As attention on higher education is turning toward outcomes and fiscal responsibility, new rankings systems that focus primarily on value and job placement are being developed. Consistently ranked as a top school within these systems, Waynesburg University has emerged as a national leader in educational value.