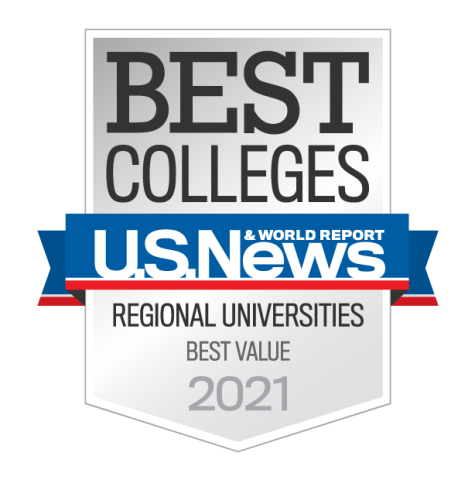 Waynesburg University continues to be a Best Value School, ranked among the top five best values of both private and public universities in the northern United States by U.S. News & World Report in their 2021 rankings.
Ranked No. 4 on U.S. News & World Report's Best Value Regional Universities North list, Waynesburg ranked above all other regional universities in Pennsylvania for value. The University qualified as a 2021 Best Value School in recognition of its high quality academic programs combined with low costs. The University climbed to No. 4 from its previous ranking of No. 6 on the 2020 list.
Released today, U.S. News & World Report's 2021 Best Value Schools Ranking examined the following four variables: ratio of quality to price; need-based aid; percent of need-based aid recipients awarded scholarships or grants; and the percentage of a school's total costs for 2019-20 covered by the average need-based scholarships or grants to undergraduates.
Earlier this month, Waynesburg University was named to MONEY Magazine's 2020 "Best Colleges For Your Money" list, which examined three primary factors, including quality of education, affordability and outcomes, for the fifth consecutive year.
Waynesburg University's tuition, room and board is more than $11,000 below the national average for a private, non-profit, four-year college, and the student loan default rate of 4.6% is far lower than the national average of 10.1%.
The University was also named a 2020-2021 College of Distinction for a commitment to the implementation of High-Impact Educational Practices across the distinctions of Engaged Students, Great Teaching, Vibrant Community and Successful Outcomes earlier this summer. Waynesburg's business, education and nursing fields of study received specialized recognition by Colleges of Distinction.
Value & Rankings
Waynesburg University has a history of recognition for value.