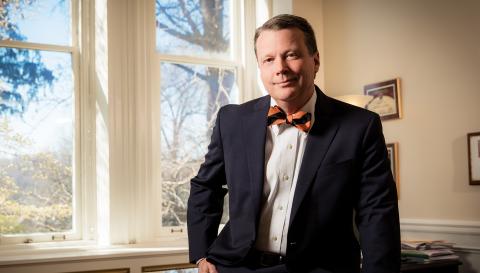 Waynesburg University President Douglas G. Lee has been appointed to the National Collegiate Athletic Association (NCAA) Division III Presidents Council, the highest governing body in the division.
"It is an honor to be selected to serve on this Council," said Lee, who will begin his four-year term immediately. "It will be a privilege to represent our region's Division III institutions and to help support student-athletes as they strive for success in both athletics and academics."
The Council establishes and directs the general policy of the Division, while also establishing Division III's strategic plan. Presidents Council has the ability to make recommendations to the Board of Governors, the Association's highest governing body, on matters related to Division III such as championships, and may approve the use of funds allocated to the Division. Additionally, Presidents Council may sponsor legislation independent of Management Council.
Lee has also served on the NCAA Division III Chancellors/Presidents Advisory Group, which focuses on the Division III Strategic Positioning Platform; key legislative proposals and policies and strategic direction; and strategic initiatives implemented through the Division III Conference Grant Program; among other matters.
Previously, Lee served as the Chair of the Presidents' Athletic Conference (PAC) Presidents' Council and on the Board of Directors for the Association of Independent Colleges & Universities of Pennsylvania (AICUP). To view President Lee's full biography, click here.
As a member of the PAC, Waynesburg University offers 20 NCAA Division III varsity sports. For more about Yellow Jacket athletics, visit waynesburgsports.com.
More than 195,000 student-athletes at over 440 institutions comprise NCAA Division III. For more information, visit ncaa.org/d3.
Consistently ranked a best value school, Waynesburg University's Strategy for the 21st Century affirms its commitment to developing an entrepreneurial mindset and ethical leadership skills for all students. Rooted in its mission of faith, learning and service, the private, Christian university is located on a traditional campus in the hills of southwestern Pennsylvania, with an additional site for graduate and professional programs in Southpointe.
# # #