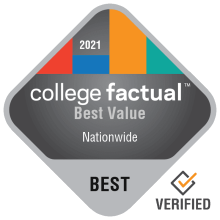 Waynesburg University has recently been named a 2021 "Best College for the Money" by College Factual. The distinction marks the fifth consecutive year that the University has been named a best value school in the nation.
Waynesburg was ranked at No. 82 out of the 1,472 schools that made the list, placing the University in the top 5.5% in the nation. Statewide, Waynesburg is ranked at No. 11 out of the 111 Pennsylvania schools on the list.
With the best value rankings, College Factual seeks to highlight colleges and universities that offer a high-quality education for a reasonable price.
College Factual ranks best value schools by estimating the average cost for an undergraduate degree. According to their website, they do this by examining total expenses, such as tuition, fees, books and supplies, room and board, and other living expenses, then deducting the average amount of financial aid awarded to a student.
Waynesburg University's criminal justice and nursing academic programs were also awarded the "Best Value" distinction, with both placing in the top 5% nationwide and both being ranked No. 1 in the state of Pennsylvania.
Earlier this fall, Waynesburg was ranked among the top five best deals of both private and public universities in the northern United States by U.S. News & World Report and was named to Money Magazine's "Best Colleges For Your Money" list.
Our Value
Learn more about who's talking about our value and why.