Image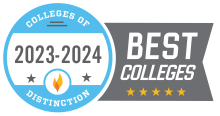 Waynesburg University has been recognized as a 2023-2024 College of Distinction, marking the eighth consecutive year of receiving the honor. The University was also named a Pennsylvania College of Distinction and a Christian College of Distinction.
"We believe that engaged students are successful students," said Tyson Schritter, chief operating officer for Colleges of Distinction. "And Waynesburg University's dedication to experiential learning shows us that each of its students has the opportunity to play an active role in their education."
As part of the selection process by Colleges of Distinction, institutions undergo detailed interviews and research which evaluate their adherence to the Four Distinctions: Engaged Students, Great Teaching, Vibrant Community and Successful Outcomes.
In addition to its recognition as a 2023-2024 College of Distinction, the University's programs in business, education and nursing also received specialized recognition.
"We don't rank our schools," said Schritter. "Every student has individual needs and flourishes in a specific environment. We prefer to focus on the innovative ways that colleges all around the country are providing an enriching undergraduate experience."
Schritter continued, "We are deeply inspired by how Waynesburg University immerses students in their academic pursuits, fostering a welcoming community that provides unwavering support throughout their college years and beyond."
To view Waynesburg University's profile, visit collegesofdistinction.com/school/waynesburg-university.
About Colleges of Distinction
Since 2000, Colleges of Distinction has been committed to honoring schools with a dedicated focus on the undergraduate experience. Its website provides dynamic college profiles, customized tools, and resources for students, parents, and high school counselors. For more information, and to learn how to become a College of Distinction, visit CollegesofDistinction.com.
About Waynesburg University
Consistently ranked a best value school, Waynesburg University's Strategy for the 21st Century affirms its commitment to developing an entrepreneurial mindset and ethical leadership skills for all students. Rooted in its mission of faith, learning and service, the private, Christian university is located on a traditional campus in the hills of southwestern Pennsylvania, with an additional site for graduate and professional programs in Southpointe.
Rankings and Value
Click below to learn more about other rankings and awards that Waynesburg University has earned for its value and academic excellence.