Beginning in the 2024-25 academic year, new Waynesburg University students will experience a new general education curriculum that provides more flexibility while preserving the foundation of a liberal arts education.
The curriculum, "Explore and Connect," is the result of several years of focused faculty discussions and consistent feedback from students who desired the option to customize their liberal arts experience. The new requirements will be applicable to the incoming class of 2024.
Faculty members considered input from University alumni, several departmental advisory boards, and external corporate partners to revise and develop curriculum to ensure that graduates meet the expectations of employers and 21st century workplace challenges.
A key factor that helped to shape the curriculum design was highlighting that the benefits of a traditional liberal arts education align directly with skills that employers desire in a college graduate."
"A key factor that helped to shape the curriculum design was highlighting that the benefits of a traditional liberal arts education align directly with skills that employers desire in a college graduate. Taking courses from multitude disciplines, as opposed to just one field of study, broadens the ability to tackle problems, think boldly, and employ creativity. With the curriculum refresh, we put that emphasis on the forefront," explains Evonne Baldauff, Assistant Provost for Online Learning and Curriculum Development, who worked with faculty to revamp the curriculum.  
Enabling students to focus on the areas that interest them the most as they journey through their Waynesburg experience, the new curriculum signifies an institutional shift to focus on student flexibility. The changes also make it easier for students to complete minors and certificates without compromising the ability to take a broad range of diverse classes.
"The [new curriculum] maximizes flexibility and student choice while maintaining Waynesburg's commitment to a liberal arts education," said senior political science major Ethan Lown, who serves as Student Senate President.  "Students can better choose classes that interest them and have relevance for their desired career paths. The Student Senate began conducting research about the general education curriculum during the 2021-2022 school year. All of the changes that we desired to see are reflected in the curriculum. We are thankful for the committee of faculty and administrators who took the time to construct this new curriculum."
The Explore and Connect general education curriculum includes four categories: Waynesburg Experience, Inquiry, Foundations and MyChoice.
Image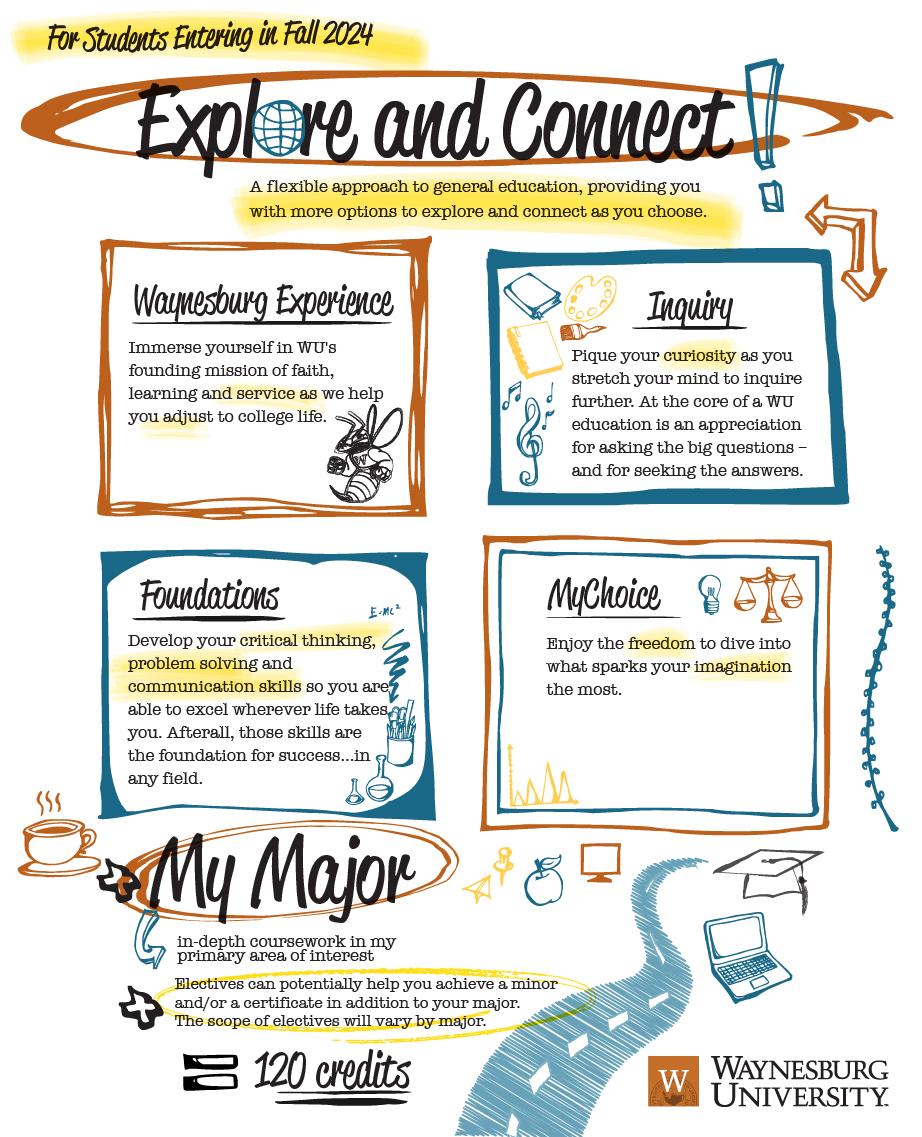 Through the five credits required of the "Waynesburg Experience," students will be immersed in two pillars of the Waynesburg University mission: faith and service learning. The one-credit Fiat Lux course provides freshmen with an introduction to Waynesburg University while helping in their transition to college life.
Within the "Inquiry" facet, nine credits cultivate an excitement for curiosity in learning. Students can customize their course selection within humanities, social sciences and artistic, creative and literary expression.
"Foundations" comprises the bulk of the new general education curriculum, designed to build the foundational skills of critical thinking, problem solving and effective communication. Within the 18 to 19 credits allotted to this category, students explore written and oral communication; information and technological literacy; and quantitative and scientific reasoning.
Through the nine credits of MyChoice, students have the freedom to dive into the subject areas that they find most compelling. Options include global and cultural awareness, history, philosophy, English, art, music, theatre, international studies, sociology, political science, psychology, economics and biblical and ministry studies.
"As a member of Waynesburg University's General Education Committee, it is my goal to give students the best liberal arts experience," said Andy Heisey, Associate Professor of Art. "The best part of the new curriculum is that students are given the flexibility to choose their path. While still requiring students to experience a wide range of important academic standards, they are in the driver's seat and can choose courses that best fit their academic goals."
About Waynesburg University 
Consistently ranked a best value school, Waynesburg University's Strategy for the 21st Century affirms its commitment to developing an entrepreneurial mindset and ethical leadership skills for all students. Rooted in its mission of faith, learning and service, the private, Christian university is located on a traditional campus in the hills of southwestern Pennsylvania, with an additional site for graduate and professional programs in Southpointe.
# # #