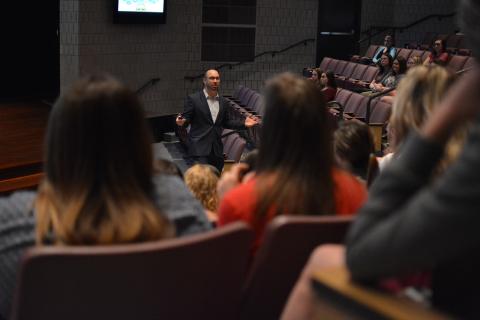 The Waynesburg University Department of Education recently hosted "Voices of the Field," featuring Dr. Justin Aglio, a 2001 Waynesburg University graduate and director of Academic Achievement of District Innovation at Montour School District.
Aglio's presentation, "Designing the Future that WE Envision through a Student-Centered, Future-Focused Mindset," focused on the impact of artificial intelligence on the field of education and teaching, said Yvonne Weaver, chair of the Department of Education. He described the Montour School District, where elementary students have access to a Brick Makerspace powered by LEGO and a Minecraft Education Lab. The school district uses these programs to focus on science, technology, engineering, art and mathematics education, Weaver said.
"Education majors were able to hear what an innovative school district is doing with the latest technology and the impact it has on teaching and learning," said Weaver.
Senior early childhood education major Jordyn Wyllie said Aglio's presentation was a valuable learning opportunity. She also appreciated the chance to network with a Waynesburg alumnus.
"He was able to relate to each student because he was once in Waynesburg's Education Department," Wyllie said. "These events enable us to make connections and begin building rapport with various school districts."
Wyllie said Aglio's presentation was engaging and interactive, and made her excited to effect change in her own career after graduating this May.
"I opened my eyes to the various ways I can impact my own classroom and the rest of the district through a desire to do what is right for students using a futuristic mentality," Wyllie said.
To learn more about "Voices of the Field," contact Weaver at yweaver@waynesburg.edu.