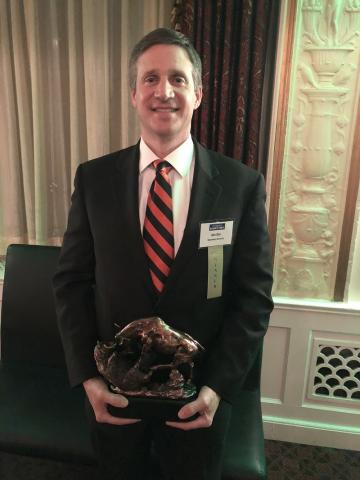 John Olon, vice president for finance and chief financial officer at Waynesburg University, has been selected as a recipient of the Pittsburgh Business Times 2018 CFO of the Year Award.
Olon was recognized during an awards event Wednesday, Nov. 7, at the Omni William Penn Hotel.
This award honors financial professionals in western Pennsylvania for outstanding performance as corporate financial stewards. In his role at the University, Olon is responsible for the Business Office, Human Resources, Facilities, Food Services and the Bookstore.  He provides executive level direction and management oversight for financial planning, budgeting and budget analysis.
Olon also directs and coordinates the institution's debt financing, risk management and insurance, purchasing and contract services, as well as accounting and business operations, financial controls, and reporting and investment oversight.
Olon has a blend of experience in both the higher education and corporate industries. He has served in a variety of financial and operational leadership roles as a vice president at Education Management Corporation. He holds additional corporate experience as the former manager of corporate financial planning and analysis at ALCOA, Inc., and worked for Ernst & Young.
A certified public accountant, Olon holds a master's degree in industrial administration (MSIA/MBA) from Carnegie Mellon University and a bachelor's degree in finance from Pennsylvania State University.
As a member of Saints John and Paul Parish, Olon is involved in community fundraising committees and service projects.
About Waynesburg University
Founded in 1849 by the Cumberland Presbyterian Church, Waynesburg University is located on a traditional campus in the hills of southwestern Pennsylvania, with three additional sites located in the Pittsburgh region. The University is one of only 22 Bonner Scholar schools in the country, offering local, regional and international opportunities to touch the lives of others through service.
# # #