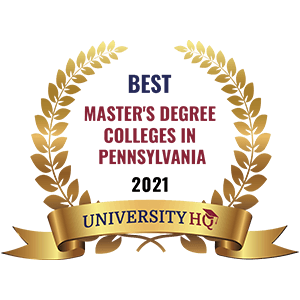 Waynesburg University was recently ranked among the top 15 "Best Master's Degree Colleges" in Pennsylvania by University HQ.
Several factors were considered by University HQ to generate the rankings including admission rate, percentage of students receiving financial aid, graduation rate, number of programs offered, as well as other factors, that University HQ considers valuable.
Consistent comparisons are guaranteed through University HQ's use of government sources. All schools were assessed using data from the following sources: the National Center for Education Statistics, the U.S. Bureau of Labor Statistics, the U.S Department of Education's College Scorecard, and the private group, Payscale.
Ranked No. 11, Waynesburg's graduate studies offer a variety of programs for students to explore, including athletic training, business administration, counseling, criminal investigation, education and nursing.
Waynesburg University's Master of Arts in Criminal Investigation (MACI) Program was again ranked a "Best Online Master's in Crime Scene Investigation" by Intelligent.com for the third consecutive year.
Earlier this year, Waynesburg's Addictions Counseling Program was recognized as a 2021 Top 50 Master's Counseling Program for Addiction Counseling by Addiction Counselor, being ranked No. 4 in the country.
For more information about Waynesburg's Graduate and Professional Studies Program, contact Kayla Ayers, assistant director of graduate and professional enrollment, at kayers@waynesburg.edu or 724-743-2251.