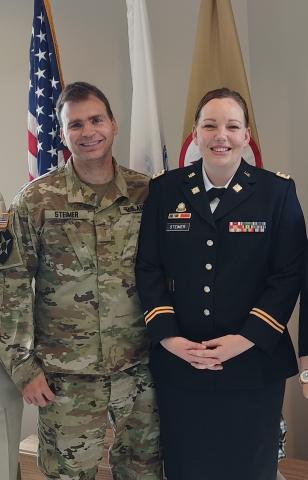 Waynesburg University is pleased to announce the promotion of one of its faculty members to Lieutenant Colonel in the United States Army Reserve.
Dr. Michelle Steimer, assistant professor of counseling in the Graduate and Professional Studies Counseling Program, has served in the United States military since 2000. She was first commissioned as an officer on active duty in 2005 before transitioning to the Army Reserve in 2010.
Dr. Steimer was deployed to Iraq with the 1st Infantry Division during her time on active duty and now serves with the 316th Expeditionary Sustainment Command as a logistics officer.
Since her promotion, she serves as branch chief of a one-star command based in Pittsburgh. In that role, she is responsible for managing the soldiers in her unit, in addition to attending training and monthly battle assemblies. She said that she has been mobilized with deploying units two times for terms lasting 12 to 18 months.
Steimer said that she is most proud of her years of service in addition to teaching at Waynesburg and being a wife and mother.
"The things that I am most proud of accomplishing are my deployments and mobilizations. To serve my community and country has been an important part of my life since I joined the military when I was 17," she said. "I am incredibly proud of my ability to manage two careers and my family over the years as a female soldier who is also a wife and mother. When I was promoted, my sons and father promoted me to Lieutenant Colonel while my husband conducted my reaffirmation of my oath of office. It was a special moment for our family."
Steimer wishes to thank the people at Waynesburg University who have supported her during her deployment. She is also grateful for the chance to serve her country, saying that it has positively impacted her life.
"During my time as an Army officer, I have served alongside talented, committed soldiers and leaders that have taught me to be a better person. I also feel like my experiences have positively impacted how I teach and understand others," she added.