Children and Youth Ministries
Using Biblical knowledge and practical ministry tools, equip youth as they grow in Christ.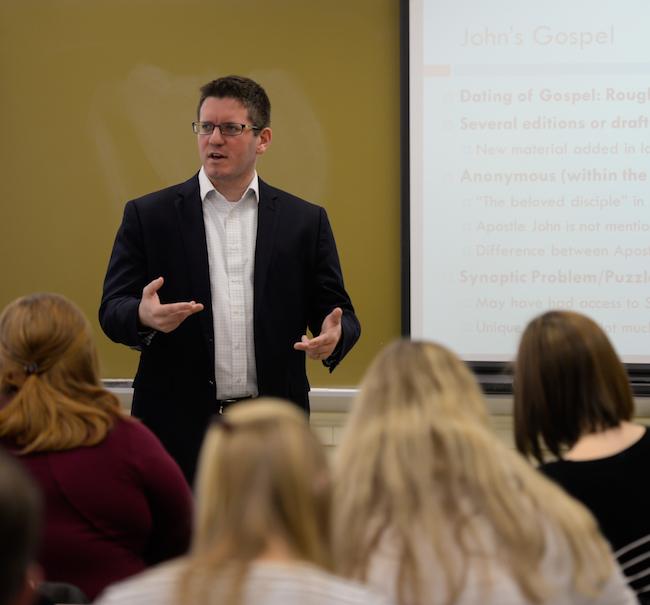 Young people today face unparalleled personal and societal pressures, needs, and challenges.
As a children and youth ministries major you'll develop an understanding of how to effectively minister to children, teens, and their families. The curriculum provides a sound foundation of Bible, theology, church history, and practical ministry tools, while also developing your understanding of the social sciences, including child and adolescent development.
 
In the departmental practicum and internship, you'll learn to practice ministry in diverse cultural settings by teaching, caring, and serving. You'll graduate equipped to use your personal faith and professional experience to bring about change.
Gain hands-on experience
As a Children and Youth Ministry major, you'll receive a range of experiential learning opportunities will further aid your understanding of the Bible for spiritual formation and the analysis of and engagement with pressing global and social concerns.
Study in a faith-based community
Our Waynesburg community is a home where we care for one another like family. During your studies in faith-based programs, and all programs, you'll be in a place where the spirit of Christianity truly exists, and you'll have the opportunity to enjoy weekly chapel services, bible studies, weekly worship services, speakers, and more.
Biblical & Ministry Studies Mission, Goals and Learning Outcomes
Mission
The mission of the Biblical and Ministry Studies program is to provide students with a clearer and deeper understanding of the Christian faith and Christian ministry leadership, personally and vocationally. The program will be academically rigorous, inherently practical and ecumenical in character.
Graduate testimonials
The professors encourage students to do practical ministry starting freshman year. They assist you in getting connected. I currently serve in a paid part-time position at a local church. I have loved my experience at WU!

Kortney Orwig, Children & Youth Ministry Major, 2019
The professors have been knowledgeable and passionate. They care about going deeper with students - personally, and academically.

Brett Thumm, Children & Youth Ministry Major, 2019
I have greatly enjoyed my time at WU. With small class sizes, you are able to build lasting relationships with staff and peers. I am pushed to grow in my faith and to put my faith into action.

Sarah Knapp, Religion & Philosophy Major, 2019
Coursework
View the academic catalog to further explore the curriculum.