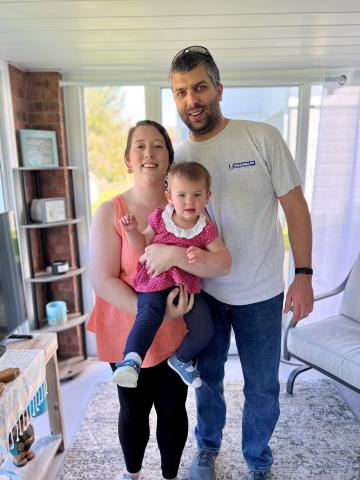 Our latest addition to our series of Alumni Council Q&As features Council 1st Vice President Joshuah Dains ('15). 
Q: When did you graduate from Waynesburg University, and what was your major?
2015 – Business Management
Q: Where has life taken you since graduating from Waynesburg University?
Professionally, I initially started working at Mylan Pharmaceuticals in Commercial Finance, though after a couple years realized that I was being led away from corporate to work locally in Greene County. I tried my hand in a few different industries and have finally landed in the financial advice industry – one which has proven to be a great fit. I have resided in Greene County since graduating from college – in the same area where I grew up.
Q: What is your current job/title, and what is your current location?
Financial Advisor at Milinovich & Co. in Waynesburg
Q: Can you describe your typical day?
My day starts off seeing my wife Jessie (Kiner '16, MA '20) and daughter Baelyn first thing in the morning. Baelyn is 18 months old and is always a bundle of joyful energy. At work I am oftentimes completing paperwork on behalf of clients and meeting with clients regarding any financial needs / questions they have. In the evenings I can usually be found at home spending time outside – hanging out with family, playing with my dog, and riding motorcycles / ATVs.
Q: Can you describe your time as a student at Waynesburg and how it shaped you as a person?
My time as a student was chocked full of diverse experiences. I was very fortunate to participate in 8 service trips – 4 domestically and 4 in Central America. Some of my professional skills were developed through the Business and Investing Clubs as well as serving as President of the Student Senate. I had the great joy of working with my peers to create the Kairos retreat which was really quite an impactful weekend. There were many other significant experiences that also helped to shape me as a person and the common thread with everything were the intentional relationships. Through the support of these relationships, the foundation was laid for pursuing my faith, serving my community, and approaching work with great fervor.
Q: What is your favorite memory as a Waynesburg student?
A particularly fond memory is my first service trip to the Children's Nutritional Center in Patzun, Guatemala. It was during my sophomore year over Thanksgiving break in 2012. One of my closest friends from high school, Chelsea, convinced me that we should leap out of our comfort zones together and partake in this great adventure. I had never been on a plane nor traveled out of the country, recalled very little Spanish from high school, and still considered myself a bit shy. My timidity was quickly wiped away by the great joy and sincerity of the children at the center. We worked incredibly hard that week at building a stairway in the back of the center with an energy that was fueled by our mutual admiration for the children there.
Q: Who was your favorite professor at Waynesburg, and why?
Like many others, I have fond memories of both professors and staff. A professor that challenged me and really assisted in my internship and job searches was Dr. McClung. His Management Policy class was always a highlight for many business students. It was through his encouragement and assistance that I was able to land two great internships which then led to a full-time job immediately after graduation. He approached us with humility and always took time to offer his advice.
Q: Why is staying connected with your alma mater important to you?
During my time as a student, I developed really wonderful relationships with professors, staff, and alumni. It was through time spent with them that really helped me discover who I am and was foundational in my maturation. We have really outstanding students at WU, and if I am able to assist some of them in this part of their journey, I consider that a great honor.
Q: What does your role as an Alumni Council member entail, and what motivates you to give back to the University in this way?
As an Alumni Council member my role is to support the University's efforts as it relates to alumni engagement and in a broader scope the mission and programs of WU. We can be found volunteering at Homecoming, serving current students at on campus events, and engaging young people that may be considering WU for their academic journey. My motivation lies in the fact that the University played a pivotal role in my development and the Alumni Council has afforded me the opportunity to assist the University in paving the way for others to have similar experiences.
Q: What advice do you have for current students? For recent graduates?
My advice for current students is to take advantage of an opportunity offered through the school that puts you out of your comfort zone. It may be studying abroad, going on a service trip, or exploring challenging internship opportunities. It is through these experiences that relationships are built and perseverance developed. For recent grads – build deep relationships with people that will encourage and support you. Navigating the complexities of life is oftentimes much more successful when surrounded by others that are pulling in the same direction as you.