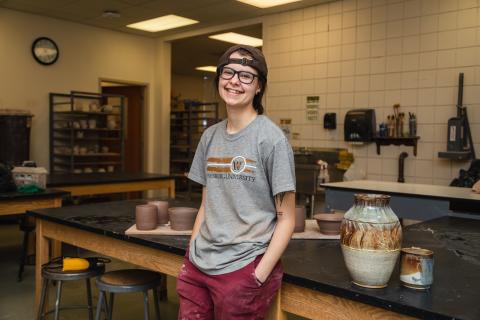 Our latest Alumni Q&A features recent graduate and Waynesburg native Emily Petro ('22).
Q: What was your major at Waynesburg?
My major at Waynesburg was Entertainment & Arts Management with a focus in Visual Arts. I also had minors in Environmental Studies and Art.
Q: What are your plans now that you have graduated from Waynesburg?
Since graduating from Waynesburg, I have continued to work at Fallingwater as a Museum Educator for the summer. As an educator, I lead conversational house tours of Fallingwater, Frank Lloyd Wright's masterpiece. I have worked at Fallingwater for the last five years! In the Fall, I will be attending graduate school at George Washington University to pursue a Master of Arts in Museum Studies & Exhibition Design with a concentration in Exhibitions and Visitor Experience.
Q: Can you describe your time as a student at Waynesburg and how it shaped you as a person?
My time at Waynesburg as a student was full of challenges but also growth. I learned more in the last four years than I have learned my entire life. My time as a Waynesburg student pushed me outside of my comfort zone for the better. The relationships I have come to form and foster here are something I will carry with me for the rest of my life. My peers and professors have had a profound impact on my journey, and I will be forever grateful for the information I have learned, the love I have experienced, and the drive to grow I have developed.
Q: What is your favorite memory as a Waynesburg student?
My favorite memory as a Waynesburg student is getting to form and grow relationships with my peers and professors. The people here at Waynesburg are the main reason I have had such a memorable and successful college experience. My peers and professors have pushed me to be the best version of myself and to ask myself questions I have never thought to consider. The friendships I have formed here at Waynesburg will stay with me for the rest of my life, and that is something I am very grateful for.
Q: Who was your favorite professor at Waynesburg, and why?
I had two favorite professors at Waynesburg. My academic and professional mentor, Professor Andrew Heisey, and my advisor in the Department of Business, Professor Jennifer Roy. These two professors had an extraordinary impact on my journey both personally and academically. They never failed to challenge me, inspire me, and push me to be the best version of myself, inside and outside of the classroom. Professor Heisey taught me everything I know today about the arts, and I will take what I learned from him far into my future endeavors. Professor Roy motivated me to ask questions and always want to learn more in the classroom. She is so passionate about teaching her students and pushing them to their highest potential. Her kind and genuine heart is something I will never forget, and I will always be grateful for the impact she has had on my life.
Q: Why is staying connected with your alma mater important to you?
Staying connected with my alma mater is important because Waynesburg is the place where I have learned to grow. Waynesburg has helped me find my future career path, meet lifelong friends, and meet professors who have inspired me to be the best possible version of myself. Waynesburg University will always hold a special place in my heart for those reasons.
Q: What advice do you have for current students? For recent graduates?
My advice for current students at Waynesburg is to put yourself out there. Talk to new people, build relationships, ask questions. Make the most of your time with the people who have also chosen to pursue their college career here. The community at Waynesburg is like nowhere else, and I encourage current students to join clubs, attend events, talk to peers in their classes, and reach out to new people. For recent Waynesburg graduates, I urge you to keep in contact with the people who you have met here at Waynesburg. Keep in touch and stay up-to-date on their lives; you may not be in the same place anymore, but the relationships formed here at Waynesburg University are so very special and unique.