Waynesburg University has named Matthew Ankrom, son of Thomas and Kelly Ankrom of Waynesburg, Pa., a 2022 recipient of the Christian Life Scholarship.
Image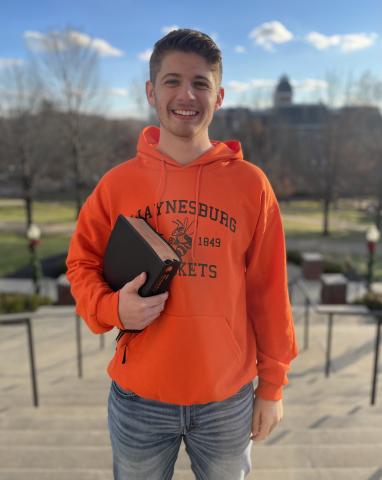 "I am very humbled to be selected for this scholarship," Ankrom said of his selection.
In the upcoming fall semester, Ankrom will begin his undergraduate studies at Waynesburg University as a religion and philosophy major. He also plans to join the varsity golf team.
Ankrom attended Waynesburg Central High School where he was a four-year letterman in golf and baseball, and served as captain of both teams. He also was the president of Youth Alive. Outside of school activities, Ankrom actively served at his local church as a deacon.
Excited to join the Christian community at the University, Ankrom is looking forward to sharing his faith with others throughout his journey as a student.
"I hope I can be a positive influence to my fellow students and, by the grace of God, lead them closer to Christ," he shared.
About the Scholarship
The Waynesburg Christian Life Scholarship recognizes students who have a growing relationship with Jesus Christ and who are involved in the life of a local church as they grow in faith. The scholarship is available to first-year freshmen and provides $4,000 over four years.
Scholarship recipients are also provided with activities, conversations and mentorship through the office of the University Chaplin and the Center for Campus Ministry.
Each recipient is assigned a Christian mentor from their anticipated field, discipline or major so that they can grow in their Christian faith while also developing leadership qualities at Waynesburg University.
To learn more about first-year freshman scholarships, click below.