When Ryan Zappa ('21) first enrolled at Waynesburg University as an athletic training major, he thought he would take the traditional path towards becoming an athletic trainer.  As he progressed within the program, he discovered a passion that would lead him in a new direction within the field.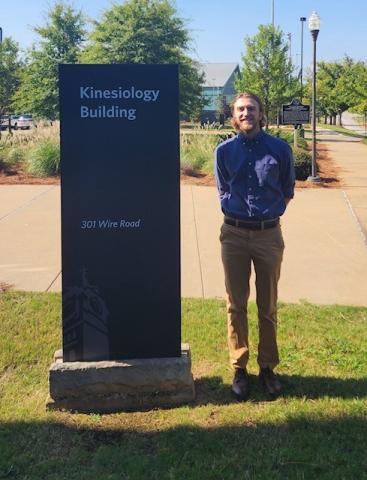 "When I started my education at Waynesburg, I had no plan to continue into graduate school," recalled Zappa. "When I was coming out of high school, I was planning on getting my bachelor's and then pursuing a career as an athletic trainer. This ended up changing during my time at Waynesburg."
As he began working in study groups with his fellow classmates on campus, he discovered an interest for teaching.
"From helping my classmates understand concepts in study groups, I realized I liked teaching," he said. "Once I realized this, I had a conversation with my advisor about how I should pursue the goal of working in higher education."
With the help of his advisor, Zappa determined the best path for him after graduation would be to obtain his master's degree and move on to a Ph.D.
After graduating with his master's degree in sports medicine from the University of Pittsburgh, Zappa began working towards his Ph.D. in kinesiology at Auburn University, where he is currently studying in the Sports Medicine and Movement Laboratory (SMML).
"In the SMML, we primarily focus on injury prevention, with a secondary focus on performance optimization in baseball and softball athletes from the youth to the professional level," said Zappa. "So far, I have been looking into joint kinematics that may have an influence on in-game pitch velocity."
His research focus has primarily been centered within baseball biomechanics, leaning specifically towards the mechanics of baseball and catchers.
"Eventually, I would like to use this research to minimize the injury risk in overhand throwing athletes," Zappa explained. "Additionally, I would like to further my understanding of the overhand throwing motion and use that knowledge to teach future athletic trainers how to evaluate, treat and understand injuries that occur due to overhead throwing."
The coursework taken during his time at Waynesburg, according to Zappa, helped to prepare him not only for graduate school but also the high demands of time management.
"From athletic training-specific classes to other generic classes that most health science majors took, such as anatomy, physiology and kinesiology classes, most really helped with going into graduate school," he said. "Even though these classes were difficult, some of which are still the hardest classes that I have taken, they really helped because they made a lot of the material from my advanced graduate-level classes review." 
Zappa continued, "The biggest part of the program that helped me prepare for now was the time management skills required for the athletic training program. Having to be in the clinic almost every day on top of a full class schedule made me develop time management skills which I still use to this day, balancing taking four classes, teaching a class, working in a lab and being in the clinic for ROTC physical training."
After completing his doctorate, Zappa plans to use his skills and knowledge to pursue teaching in higher education. In addition, his goal is to work with Major League Baseball (MLB) teams as a consultant, using his research to improve the overall performance of those professional athletes.
Athletic Training at Waynesburg University
Learn more about our 3+2 Athletic Training program at the link below.