Athletic Training
Earn both a Bachelor of Science and Master of Science in Athletic Training degree in just five years.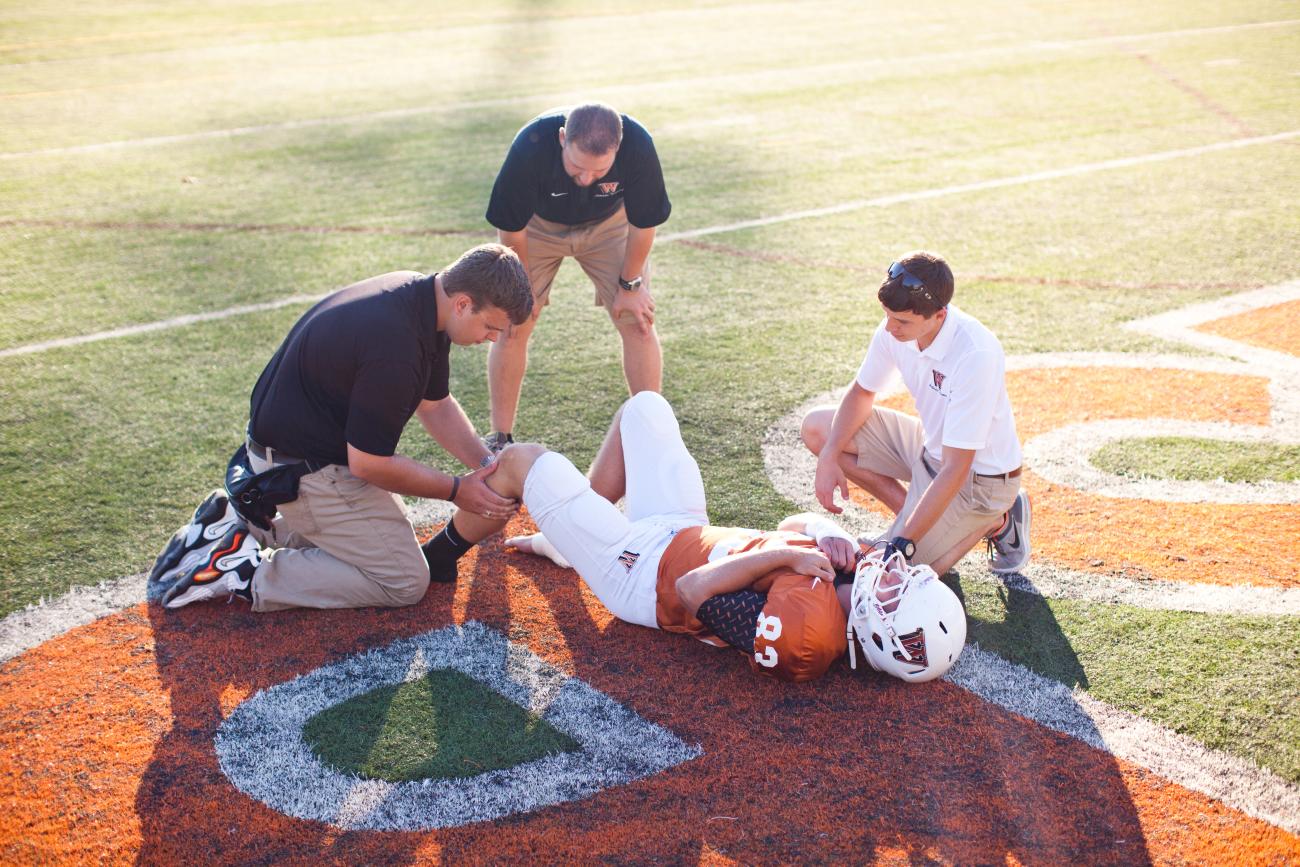 This accelerated 3+2 program puts you on course to become a Certified Athletic Trainer in just five years.
Students, who complete pre-requisite courses during their first 3-years of undergraduate education via the Health & Exercise Science Pre-Athletic Training option, can apply to the fully accredited Commission on Accreditation of Athletic Training Education (CAATE) entry-level Master of Science in Athletic Training (MSAT) program during their junior year.
Once accepted, this two-year program enables students to combine rigorous graduate academic study with supervised clinical experiences in a variety of healthcare settings to achieve a balance between academic scholarship and the acquisition of critical skills necessary for a successful career as a Certified Athletic Trainer.
Certified Athletic Trainers are highly-qualified, skilled health care professionals that work in collaboration with physicians. The practice of athletic training encompasses preventing, examining, diagnosing, treating, and rehabilitating emergent, acute, or chronic injuries and medical conditions in the physically active population.
Prepare for a graduate degree
This integrated, five-year accelerated program at Waynesburg University is designed for incoming first-year students seeking an accelerated path to completion of an entry-level master's degree in athletic training. This degree option requires the completion of three years of undergraduate coursework in the Health & Exercise Science major, Pre-Athletic Training concentration. The program enables students to gain an edge in today's fiercely competitive job market. The innovative program's 148-credit curriculum allows eligible students to obtain both a Bachelor of Science (BS) in Health & Exercise Science and a Master of Science (MS) in Athletic Training within a streamlined five-year time period. The athletic training program is constructed to prepare highly motivated students with an interest in the medical field to sit for the Board of Certification (BOC) Exam to become a certified Athletic Trainer upon graduation.
Gain early, hands-on experience
You will have the opportunity to gain significant hands-on, real-world patient-care experience through clinical rotations in both traditional and non-traditional athletic training settings. Prior to that, you'll gain hands-on experiences in your coursework beginning in your first year of undergraduate study. We'll also connect you to science-focused events in the community that let you share and apply what you've learned while pursuing a path tailored toward helping others.
Build a long-term career
The curriculum provides a strong general liberal arts education that stretches you intellectually, physically and spiritually. Our faculty have extensive field experience, which means that you'll see and hear about real, practical connections between your coursework and future practice. Coupled with project-based learning opportunities, you'll graduate as a confident and proficient healthcare professional prepared for a world that needs you.
Learn in state-of-the-art facilities
Stewart Hall, the academic building that will host most of your biology, health & exercise science, and anatomy core classes, has recently undergone extensive interior and exterior renovations to provide advanced technology and tools to Waynesburg University students. In addition, you will utilize the Athletic Training Clinic, a fully immersive facility and laboratory space that includes therapeutic modalities, musculoskeletal rehabilitation equipment, patient exam space, an updated hydrotherapy room, and cardiovascular and resistance training equipment.
Coursework
View the academic catalog to further explore the curriculum.