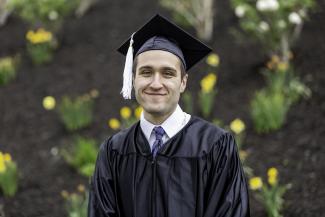 Waynesburg University honored the Class of 2022 during commencement ceremonies on Saturday, April 30, and Sunday, May 1, on the Lawn of Miller Hall.
More than 400 undergraduate, graduate and doctoral students were honored. Commencement exercises for graduate students were held Saturday at 4 p.m., while the undergraduate ceremony was Sunday at 2 p.m.
Kenneth Cairns III, a criminal justice administration graduate from North Huntingdon, Pennsylvania, was named one of three valedictorians. He is the son of Ken and Diane Cairns Jr.
Something about the community at Waynesburg really drove me to do the best that I possibly could."
"It really is an honor," Cairns said. "It is certainly not something I could have done without the support from my family, friends and professors over the years."
Cairns also shared that, while he didn't excel so much academically in high school, that changed in college.
"Something about the community at Waynesburg really drove me to do the best that I possibly could," he shared.
Cairns was named to the Dean's List every semester he was a student at Waynesburg. His senior year, he earned the Criminal Justice Administration Program's Academic Honor.
During his time at Waynesburg University, Cairns grew from countless opportunities.
"Whether it [was] through academics, meeting new friends and mentors or serving others, every student can better themself," Cairns said. "In my time at WU, I always kept my goals in mind and took advantage of the opportunities that were presented to me."
Speaking of goals, Cairns is in the process of fulfilling his first career goal - earning a job. He has a number of applications placed with a variety of agencies and is awaiting next steps in the process.
"It is difficult to say exactly where I will ultimately end up, but between the experience I've gained and the networking I've done at Waynesburg, there are plenty of good opportunities in front of me."
The following students were also named valedictorians:
Sophie Kipe, an early childhood education graduate from Chambersburg, Pennsylvania
Rachel Pellegrino, a communication (electronic media) graduate from Yardley, Pennsylvania
Pellegrino delivered the valedictory to the Class of 2022 at the undergraduate ceremony May 1.