Waynesburg University's Department of Fine Arts will host Mark Houghton and Rodrigo Ojeda Thursday, Sept. 14, at 7:30 p.m. in the Goodwin Performing Arts Center as part of its Performing Arts Series. Admission is free and open to the public.
This concert will serve as the first concert of the 2023-24 academic year. Houghton, of the Pittsburgh Symphony Orchestra, will perform a French horn recital, accompanied by Ojeda, Assistant Teaching Professor of Coaching and Accompanying at Carnegie Mellon University, on piano. Standard works for French horn and piano will serve as the repertoire for the evening.
Event Details
For complete event details, please visit the dedicated event page.
About Mark Houghton
Houghton has been a member of the horn section of the Pittsburgh Symphony Orchestra since 2014. Previously, he held principal horn posts in the Harrisburg Symphony Orchestra, the Phoenix Symphony and the Fort Worth Symphony Orchestra. Houghton is a prizewinner of national solo horn competitions, and has appeared as a guest artist or soloist with many notable orchestras and music festivals.
Raised in a musical family with horn-playing parents, Houghton began on piano and started horn at age 11. He attended the Eastman School of Music, earning a bachelor's degree with a performer's certificate as a student of W. Peter Kurau. Further training included professional studies with William VerMeulen. A passionate educator, Houghton has presented numerous clinics and masterclasses across the nation and currently serves as Adjunct Professor of Horn at Duquesne University.
Houghton is part-owner of Houghton Horns, a family business whose mission is to spread the joy of music through providing the highest level of products, services and resources to the brass-playing community.
About Rodrigo Ojeda
Venezuelan-born pianist Ojeda discovered his passion for music at the very early age of two when his parents made him listen to Carl Orff Trionfo di Afrodite and Carmina Burana, but it was not until the age of 10 that he began to take his first piano lessons. By the age of 15, Ojeda was invited to perform Tchaikovsky First Piano Concerto with the Gran Mariscal de Ayacucho Orchestra, which was broadcast live on radio and television in Caracas, Venezuela.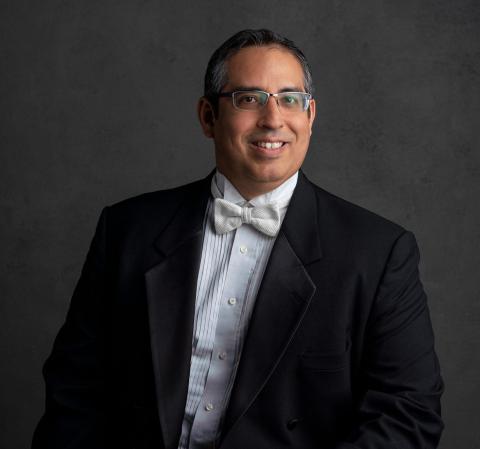 A versatile pianist, Ojeda has frequently performed as a soloist, recitalist and chamber musician. He has performed in every prominent concert hall in his native Venezuela as well as in Ecuador, Spain, United States and Mexico, with an expansive repertoire of Tchaikovsky, Brahms, Gershwin, Grieg, Schumann, Mozart, Liszt (Totentanz), Cesar Frank, Prokofiev, Rachmaninov, Saint Saëns and Stravinsky. Ojeda has participated in master classes with numerous concert pianists like Kasimierz Giesrod (former rector of the Frederic Chopin Academy in Warsaw), Marek Jablonsky, Georgy Sandor, Marta Gulyas and Earl Wild.
Possessing a wide-ranging knowledge of chamber music repertoire, he has collaborated with countless instrumentalists and vocalists worldwide. He has played and recorded several CD's with various principal members of the Pittsburgh Symphony Orchestra as well as former Concertmasters Andrés Cárdenes and Noah Bendix-Balgley. Recently, Ojeda recorded Stravinsky Piano Concerto with Carnegie Mellon's Wind Ensemble.
Ojeda received a bachelor's degree in piano performance at IUDEM, Venezuela (Institute of Musical Studies) in 1997 with his mentor and pianist Arnaldo Pizzolante, then moved in 1999 to the United States where he received a master's degree and an artist diploma at Carnegie Mellon University under Mr. Enrique Graf in 2003.
Currently, Ojeda is an Assistant Teaching Professor of Coaching and Accompanying at Carnegie Mellon University as well as a piano faculty member in its Music Preparatory School. He has also been playing with the Pittsburgh Symphony Orchestra since August 2006.
About Waynesburg University
Consistently ranked a best value school, Waynesburg University's Strategy for the 21st Century affirms its commitment to developing an entrepreneurial mindset and ethical leadership skills for all students. Rooted in its mission of faith, learning and service, the private, Christian university is located on a traditional campus in the hills of southwestern Pennsylvania, with an additional site for graduate and professional programs in Southpointe.