"Sara Byler is a unicorn. She did more in four years than many people do in 24 years. She took advantage of numerous opportunities at Waynesburg as a double major, a Bonner Scholar, resident assistant, Vira Heinz program participant and more. To say she experienced personal growth is an understatement," said Instructor of the Business Administration Jennifer Roy.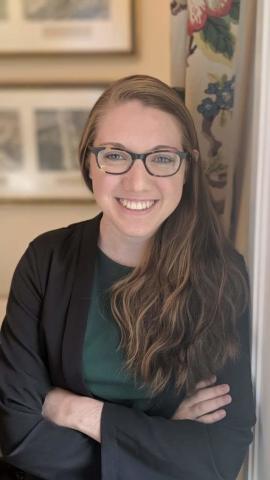 Byler, a double major in business management and social science, did more than partake in Bonner life, a scholarship based on service in the community. Through the scholarship program, she started an Issue-Based Human Rights Project. 
"My team focused on educating the campus and local community on human rights issues such as human trafficking, privilege, mass incarceration, etc." Byler said. 
She also served as an active member of the Bonner Leadership Team and as a Bonner intern since her sophomore year. She helped plan and facilitate the Bonner Foundation National Summer Leadership Institute Conference that was hosted at Waynesburg University last May. Because of her achievements, Byler was selected as a Corella and Bertram F. Bonner Foundation Intern in Princeton, New Jersey.
Byler says she has a soft spot for the Waynesburg community and the places she has served over the years.
"In all my four years, my service sites became the places I felt most loved and at home: my first two years spent at the GWCO After-School Tutoring Program and my last two spent at the Greene County Probation Office's Compass Program and Waynesburg's own Center for Service Leadership. It has been a privilege to serve the Waynesburg community."
Byler's leadership extends to young women at Waynesburg as an RA.
"The memories I have from each year are so meaningful to me, and I am so thankful to my residents for allowing me into their lives. Those girls gave me so much stress and even more joy," she said.
Looking back on her time at Waynesburg, Byler said some of her most cherished memories came from the day-to-day moments like "late night Sheetz runs, movie and game nights, decorating the floors for Christmas, shouting each other's names down the hallway, hugs and simply living life together." The fun times shared with friends are something she will remember fondly as she continues her journey post-graduation.
When asked what advice Byler would give to incoming freshmen at Waynesburg, she said she would encourage them to take advantage of the knowledge surrounding them.
"Get to know the faculty and staff of Waynesburg, because they are your biggest supporters. Ask for help, even when you don't think you need it. There is no shame in asking people to walk through life with you. In fact, asking for help can lead to the greatest growth and deepest community. Also, study hard, but do not let it keep you from developing community or from taking time to do something fun."   
Moving forward from her experience at Waynesburg, Sara is applying for a job working in human resources or non-profit development. Her dream is to attend law school in a year or two.
---
This article originally appeared in Waynesburg University's student newspaper, "The Yellow Jacket."
Congratulations, Class of 2020!