Image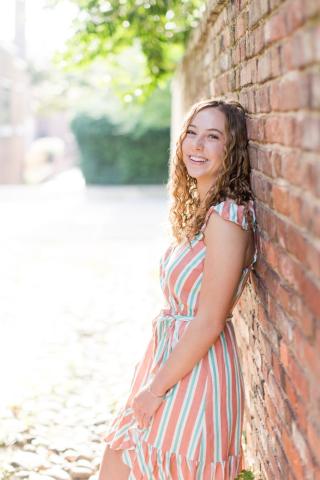 Waynesburg University has announced Amanda Sweeney, daughter of Eddie and Diane Sweeney, as a 2023 recipient of the Founders Scholarship.
Sweeney, of Hagerstown, Maryland, is a high school senior at Grace Academy.
"I am overjoyed and extremely grateful [to be] selected for the Founders Scholarship," said Sweeney. "It is an awesome opportunity, and I cannot wait to find ways that I can make an impact at Waynesburg University."
Sweeney has been an active member within her high school, serving on the Academy's leadership team for three years, co-founding the chapel team and volunteering as a teacher's assistant.
She has played varsity volleyball, basketball and soccer, serving as captain for at least two years for each sport. In her junior year, she received Grace Academy's "Knights Award," recognizing her leadership and positive impact.
Away from Grace Academy, Sweeney has taken additional classes at Hagerstown Community College and has amassed 30 credits going into college at Waynesburg.
She's also earned the distinction of being named to the Dean's List at Hagerstown. That's in addition to being part of National Honor Society during her junior year at Grace Academy.
It is an awesome opportunity, and I cannot wait to find ways that I can make an impact at Waynesburg University."
Service has been a big part of Sweeney's commitment outside of school. She has volunteered for Habitat for Humanity Restore and at the Pediatric Movement Center in Hagerstown.
Last year, as a junior, her class took a service trip to Myrtle Beach, South Carolina, where they served at a local food pantry, worked at a Christian camp and helped a local church reopen after the height of the COVID-19 pandemic.
Sweeney has also been active as a mentor and tutor at her school and a huddle leader for her school's Fellowship of Christian Athletes (FCA) group.
Additionally, she participated in a Christian leadership conference in Washington, D.C., during her junior and senior years.
As a result of her impressive service resume, Sweeney was awarded the Distinguished High School Award for service in academics, leadership, athletics and Christian-faith service from the Association of Christian Schools International.
At Waynesburg, Sweeney plans to study finance and play for the women's soccer team.
"I am most excited about meeting new people and starting many new friendships in the fall," added Sweeney. "I am also extremely excited to play soccer and be part of an awesome team."
Other recipients of the Founders Scholarship include Isabella Griffith, Diana Hernández, Mason Lewis, Waverly Lorne and Ethan Mata.
Matriculation for the Class of 2027 will be held August 25.
Founders Scholarship
The Founders Scholarship is a full tuition and fees scholarship awarded to a select group of high-academic performing first-year freshman students.
To learn more about other first-year freshman scholarships, click below.