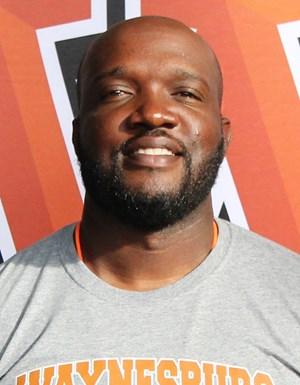 Waynesburg University will hold a special convocation Tuesday, Jan. 18, at 11 a.m. in Roberts Chapel to celebrate Martin Luther King, Jr. Day. Sam London, assistant football coach at Waynesburg University, will serve as the guest speaker.
Following the convocation, at noon, there will be a short ceremony for the unveiling of a plaque commemorating the former Bethel African Methodist Episcopal Church of Waynesburg on the corner of Franklin and Fruit Streets (by the Marine Biology Lab across from Chick-fil-A). Special music will be provided by the Waynesburg University Lamplighters. 
The events are free and open to the public. In compliance with the Keep Waynesburg Well Plan, all in attendance will be required to wear a mask indoors regardless of vaccination status. More information can be found online at waynesburg.edu/keepwaynesburgwell.
Sam London
London joined the Waynesburg University coaching staff prior to the 2021 season and works closely with the Yellow Jackets' running backs and tight ends.  He also serves as the program's recruiting coordinator. He arrived on campus after building a coaching resume that stretches longer than a decade and includes stops within the NCAA Division II and Pennsylvania high school ranks.
 
Coach London comes to Waynesburg from J.P. McCaskey High School in Lancaster, Pennsylvania, where he not only served as head coach of the Red Tornado, but also held the title of academic advisor in 2019 and 2020. Prior to his most recent career stop, London wore multiple hats at Division II Lincoln University. From 2015 to 2019, he served as the Lions' recruiting coordinator, special teams coach and running backs/tight ends coach.
 
London's first collegiate position came at Cheyney, another Pennsylvania-based Division II program. From 2013 to 2015, he not only served as one of the school's co-recruiting coordinators, but also coached their running backs, offensive tackles and tight ends. In 2012 and 2013, he was a member of the Capital Christian School coaching staff in Sacramento. 
London got his first taste of the college game as a member of the roster of the Millersville University Marauders. After leaving Millersville to join the United States Air Force, a time in his life that included a tour in Iraq, he returned to academia and earned degrees from Southern New Hampshire University and California University of Pennsylvania.
 
London is married to his high school sweetheart Stephanie. He is also the father of sons Samuel IV and Joshua.
About Waynesburg University
Consistently ranked a best value school, Waynesburg University's Strategy for the 21st Century affirms its commitment to developing an entrepreneurial mindset and ethical leadership skills for all students. Rooted in its mission of faith, learning and service, the private, Christian university is located on a traditional campus in the hills of southwestern Pennsylvania, with an additional site for graduate and professional programs in Southpointe.
# # #