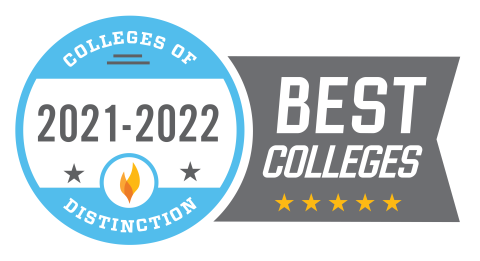 Waynesburg University has been recognized as a 2021-2022 College of Distinction for its continued commitment to engaged, hands-on education. This marks the sixth consecutive year that Waynesburg has earned the distinction.
The University was also named a Pennsylvania College of Distinction and a Christian College of Distinction.
The designations, which are presented by Colleges of Distinction, highlight schools that foster a dynamic learning community through a specialized focus of student-centered education.
"It's inspiring to see Waynesburg University commit to the learning styles and community involvement that will best allow their students to succeed in and beyond their college years," said Wes Creel, founder of Colleges of Distinction.
According to Colleges of Distinction, the selection process comprises of in-depth research and detailed interviews with individual schools about their institution's freshman experience and retention efforts in addition to its general education programs, career development, strategic plan and student satisfaction, among others.
All College of Distinction schools must adhere to the Four Distinctions - Engaged Students, Great Teaching, Vibrant Community and Successful Outcomes.
"Every student has their own unique set of abilities, their own goals and their own ideal settings in which they would thrive," said Creel. "It's about finding the best opportunities for each individual's needs and desires. Waynesburg University's inclusion is informed by the unique ways it commits to achieving success."
Waynesburg's business, education and nursing fields of study also received specialized recognition by Colleges of Distinction.
---
About Colleges of Distinction
Since 2000, Colleges of Distinction has been committed to honoring schools throughout the U.S. for true excellence in higher education. The member schools within the Colleges of Distinction consortium distinguish themselves through their dedicated focus on the undergraduate experience. Its website provides dynamic college profiles, customized tools, and resources for students, parents, and high school counselors. For more information, and to learn how to become a College of Distinction, visit CollegesofDistinction.com.
About Waynesburg University
Founded in 1849 by the Cumberland Presbyterian Church, Waynesburg University is located on a traditional campus in the hills of southwestern Pennsylvania, with an additional site for graduate and professional studies in Southpointe. The University is one of only 22 Bonner Scholar schools in the country, offering local, regional and international opportunities to touch the lives of others through service.
Value and Rankings
Click below to learn more about all of Waynesburg University's rankings and awards.