Secondary Education (7-12): Biology, BA or BS
Prepare to grow young minds through the incredible world of science in a program that puts you in front of the classroom from the start.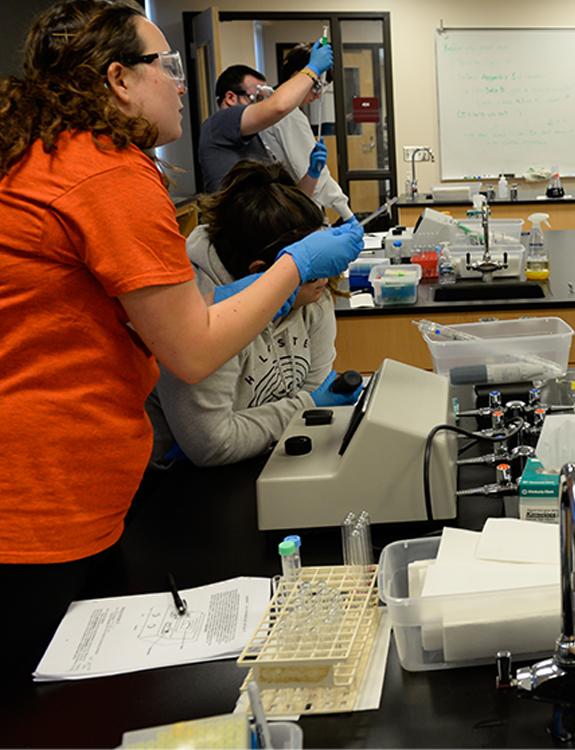 Make a difference in the lives of middle and high school students by becoming a biology teacher.
Upon successful completion of the secondary education biology program at Waynesburg University, you'll earn either a Bachelor of Arts in Biology with certification to teach biology in grades 7 through 12, or a Bachelor of Science in Biology with certification to teach biology and general science in grades 7 through 12.
Begin student teaching early
Your education-related coursework and field experiences can start as early as freshman year. Through small classes taught by expert faculty and real-world learning experiences and internships woven into the curriculum, you'll gain a comprehensive foundational knowledge of science, biology, and education.
Learn in state-of-the-art facilities
Stewart Hall, the academic building that hosts most biology, environmental science, and marine biology core classes, has recently undergone extensive interior and exterior renovations to provide advanced science technology and tools. Here, you'll complete research and work with current equipment and instrumentation.
Build a long-term career
Waynesburg University prepares caring and confident educators who are ready to teach and thrive in a 21st century secondary school. In addition to your core classes in the biology concentration area, you'll grow to understand the organizational structure of education, pedagogy, assessment, and professionalism, giving you a competitive advantage and a skillset primed for leadership as your career begins.
Get involved with service work
Biology-based mission trips, led by department faculty, are designed to give you experience teaching, helping others with your knowledge, and living a life of purpose. The science departments also collaborate to host an annual Science Day for local high school students. You'll prepare special presentations for students and network with teachers in the region. Waynesburg University is also home to a nature trail that is incorporated into biology courses.
Coursework
View the academic catalog to further explore the curriculum.
The Department of Education at Waynesburg University offers teacher preparation  programs for elementary, elementary/middle, and secondary education which are approved by Pennsylvania Department of Education (PDE).