Environmental Science
Develop an understanding of ecosystems and natural resources that compose our environment, the role of human impacts, and pathways toward sustaining a healthy planet.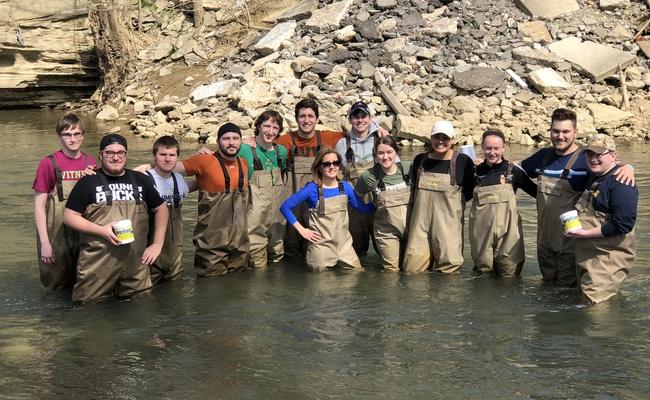 The future of our environment will deeply impact the future of our society. There's an urgent need for thoughtful environmental scientists who understand the needs of both.
As an environmental science major, you'll take courses that blend lectures, laboratory work, and service learning to examine contemporary topics of environmental issues. We also offer several unique opportunities to get involved with sustainability research and activism that translate to a variety of emerging careers. You'll graduate prepared for a range of fields, including applied environmental ecology, field biology, energy, environmental law, teaching, communications, government service, and private industry or consulting.
Become a steward for Earth
You can join a range of student groups that bring awareness to environmental issues across campus and help the Waynesburg community become more eco-friendly. EcoStewards club hosts an annual Environmental Week; the campus recycling team creates and implements initiatives that promote sustainability; and Unity Trail student leaders conduct preservation research and practice environmental restoration along a two-mile wooded area on campus. This work will further strengthen your preparation and competitiveness for jobs or continued education in environmental science.
Connect with industry leaders
Our students achieve outstanding internship placements, both regionally and nationally, with prominent organizations like the National Science Foundation sponsored Research Experience for Undergraduate (REU) programs, as well as state and federal government agencies, private counseling firms, and non-governmental organizations. Internships are a unique opportunity to obtain valuable training and experience with established scientists and other professionals while gaining definitive career and research experience using the latest technology.
Take interdisciplinary coursework
Courses in biology, ecology, chemistry, geology, environmental policy and mathematics comprise our interdisciplinary approach. Students also have the option of taking summer field-based environmental courses such as conservation biology, agroecology, stream ecology and wildlife ecology through the Au Sable Institute. Through the Waynesburg University lens, you'll learn how to apply knowledge from the classroom to help preserve God's Creation and make our planet a more sustainable and healthy place to live.
Learn in state-of-the-art facilities
Stewart Hall, the academic building that hosts most biology, environmental science, and marine biology core classes, has recently undergone extensive interior and exterior renovations to provide advanced science technology and tools. Here, you'll conduct superior research and work with current equipment and instrumentation.
Coursework
View the academic catalog to further explore the curriculum.
Environmental Science Mission, Goals and Outcomes
Mission
Train scientists and multidisciplinary professionals to protect, preserve and restore God's Creation and to provide knowledge for the development of solutions to address human impacts on the environment.
Virtual Tour
View our home, Stewart Science Hall, and click on the additional media at the bottom to see the Waynesburg University Unity Trail.
Environmental Science News and Events