Forensic Science
Learn how to apply science to aid in criminal investigations.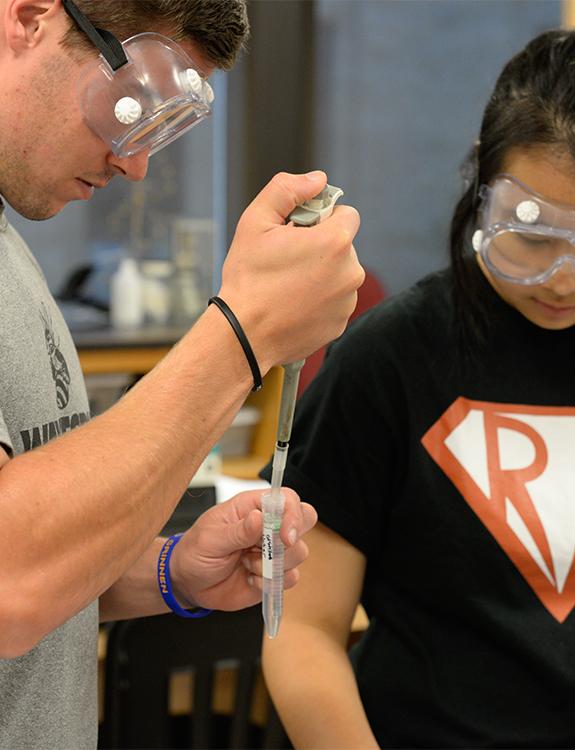 Forensic science is an interdisciplinary study of the applications of biology, chemistry, physics, and law to criminal investigation.
Our curriculum combines modern biology and chemistry lectures and laboratory research, and it's designed to provide depth of specialization in chemistry. You'll learn forensic science professional practice through theoretical study and hands-on experiences in our state-of-the-art lab from specialized instructors. You'll prepare for graduate study or to pursue careers in local, state, and federal law enforcement agencies such as the FBI, DEA, and EPA.
The forensic science major is one of four forensic programs at the university. That means you'll uniquely learn the methods and language of various forensic fields among students exploring concepts you could later see, and potentially leverage, in a professional setting.
Accelerated Start Program
Learn more about this offering designed for incoming freshmen in the sciences to strengthen math and chemistry skills before they enter classes.
Gain expert guidance
Our forensics faculty have extensive field experience, which means that you'll see and hear about real, practical connections between your coursework and future practice. Each of our faculty members runs an active research program that you can join, encompassing topics such as arson investigation, latent print identification, drug identification, and blood analysis.
Make valuable connections
Through your work in the Forensic Science Program, you will have many opportunities to get involved in community outreach events, CSI summer camp, Mock Crime Scenes, and professional organizations to enhance your research, networking, speaking experience, and more.
Learn in state-of-the-art facilities
The Forensic Science lab contains a collection of instrumentation that is foundational to learning the intricacies of forensic analysis. All students have direct access to this equipment and are encouraged to learn to troubleshoot and work independently. Meeting and exceeding the standards of forensic science program accreditation curricular guidelines in our program allows you to step into your future job with confidence and experience as a forensic scientist.
Network with professionals
Because our program maintains active ties with our graduates, you get the experience of interacting with professionals who have gone through the same program and found successful careers as forensic scientists, firearms specialists, district attorneys, chemical analysts and more. You can become a member of the Forensic Science Club which is active in bringing speakers to campus and taking trips to crime labs, working directly with your faculty and peers.
Goals and Objectives for Forensic Science
Students will develop a sound natural science foundation and obtain minors in both biology and chemistry.

Students will learn critical thinking skills and understand forensic science professional practice through theory and hands-on experiences in the lab and field.

Students will develop an understanding of the principles and techniques utilized by forensic science practitioners in the laboratory and at the crime scene.

Students will gain practical instrumental experience using professional laboratory equipment such as the comparison microscope, gas chromatograph/mass spectrometer, scanning electron microscope, infrared spectrometer, microspectrophotometer, polarized light microscope, stereo microscope, and other analytical tools typically found in the forensic laboratory.

Students will develop an understanding of the importance of the scientific method and its application in crime scene processing and reconstruction.

Students will gain practical crime scene processing and evidence handling experience using appropriate equipment and technology in mock crime scene scenarios in a dedicated crime scene house.

Students will learn critical aspects of the criminal justice system, criminal investigation, common law principles, and rules of evidence through criminal justice administration course work and participation in mock court proceedings.

Students will learn the importance of ethics and quality assurance in the application of scientific examinations of physical evidence.

Students will develop communication and leadership skills through the University's general education requirements, service, and extracurricular opportunities.
Coursework
View the academic catalog to further explore the curriculum.
Additional Programs in Forensics
Forensic Biology
Forensic Chemistry
Forensic Investigation
Student and Alumni Testimonials
The professors of the Chemistry and Forensic Science Department have a wide range of work and research experience. It is helpful to be taught in a way the prepares us for these real life jobs rather than simply passing exams.

Hope Bailey, Class of 2020
I have gained so much knowledge and respect for my professors and fellow students in my major as we consistently give our all into the science field. Most importantly I've gained a family in my field.
Emily Rusk, Class of 2020