Pharmaceutical Science / Pre-Pharmacy
Transform your interest in biology, chemistry and medicine into an exciting interdisciplinary career.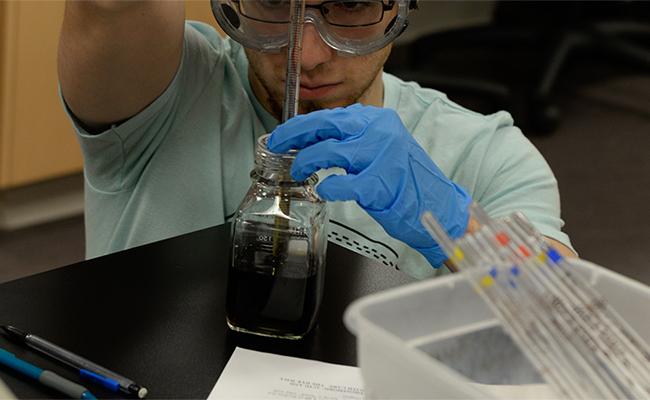 Impact society by developing medical solutions.
Majoring in Pharmaceutical Science opens pathways that you may have never known existed. Many students who pursue this major will go on to become pharmacists, but you can also use this degree to design, manufacture or test ground-breaking medications.  
Pharmaceutical Science draws together the fields of biology and chemistry with an ultimate goal of studying drug development. If you are looking for a career that involves using medicine to help others and you enjoy a challenge, this major might be for you.  
Pre-Pharmacy options are also available through Waynesburg University's partnership with Duquesne University, providing students several unique pathways to pursue a Doctorate of Pharmacy (Pharm.D.). If you dream of becoming a pharmacist, this is the direction for you.
Student-centered advising
A degree in Pharmaceutical Science can lead to graduate school, work in a pharmaceutical manufacturing company, becoming a pharmacist and more! To help you navigate through all of these options to find the path that is best suited for your skillset and interests, we have a designated faculty advisor who will work with each individual student in the program. We have designed special seminars into the program with opportunities to learn more about working in the field of pharmaceuticals and biomedical research.
Learn in state-of-the-art facilities
The Stewart Science building is a five-story complex that houses several science departments, and is home to newly renovated chemistry laboratories. The labs contain suites of advanced, modern equipment that all students have direct access to, where you can learn to troubleshoot and work independently. Our curriculum and laboratory program have been approved by the American Chemical Society for over 50 years. The ACS is the world leader in chemical development.
Focus on research
Faculty in the science departments at Waynesburg University are invested in teaching students not only in the traditional classroom but also in research settings. Each student has the opportunity to get involved in a research project during their time at WU. If you are interested in pharmaceutical research as an undergraduate you can become involved as early as your freshman year.
Biomedical/pharmaceutical career options
You will be grounded in all of the foundational chemical sciences to understand biology and medicine at the molecular level. If you do not want to be a pharmacist or find that this is not the career for you, our planned coursework will provide you with extensive career opportunities. The experiences gained as a part of your major will set you apart as you look to research, manufacturing, government or drug development career paths beyond your time at WU.
Becoming a Pharmacist
Start with us. Finish at Duquesne University.
Waynesburg University has partnered with Duquesne University to provide students several unique pathways to pursue a Doctorate of Pharmacy (Pharm.D.). If you dream of becoming a pharmacist, this is the direction for you.
Each student's journey is unique. That's why we have multiple options for you to earn a Pharm.D. No matter which option you are considering, we have faculty advisors to help you understand the requirements and timeline and to help make sure you are on the right path. 
Learn more below about the Duquesne University School of Pharmacy and the available pathways offered through this partnership.
Pre-Pharmacy Early-Entry Program
This accelerated pathway allows students to pursue a Pharm. D. degree without earning a Bachelor's degree first. You would spend two years taking designated classes at Waynesburg University and then could be considered for entry to the Pharm. D. program at the Duquesne University School of Pharmacy. There are entrance requirements for both the WU program and the DU program.
Bachelor of Science + Pharm. D. Program
If you want to earn both a degree from Waynesburg University and a Pharm. D. from Duquesne University, this is the path for you. At WU, choose from a B.S. in Pharmaceutical Science or Biology (Pre-Professional). You would complete this degree in just three years and then could be considered for entry to the Pharm. D. program at Duquesne University. There are no entrance requirements for the WU degree, but DU has specific criteria for admittance.
Dr. Takashi Suyama and collaborators, including recent graduate Kimberly Taylor, were recently published in the Journal of Natural Products for their work involving the total synthesis of a marine natural product isolated from cyanobacteria. Taylor, a Jeffrey and Regina Taussig Ohio Honors Scholarship awardee and 2021 chemistry graduate, is pursuing a Ph.D. in organic chemistry at the University of North Carolina Chapel Hill. Taylor began work on this project as a sophomore and presented her findings at the virtual 2021 American Chemical Society (ACS) Spring Meeting. Dr. Suyama and Taylor collaborated with researchers at the Center for Marine Biotechnology and Biomedicine at Scripps Institution of Oceanography and Skaggs School of Pharmacy and Pharmaceutical Sciences at the University of San Diego.

View the publication
Student Outcomes for Pharmaceutical Science
Driven by the desire to education students in the tradition of faith, learning, and service, students will:
Develop a strong foundation in chemical and biological sciences that will contribute to their understanding of the nuanced field of pharmaceutical sciences.

Gain practical, hands-on skills both common and unique to chemical and biological laboratory practice relative to the field of pharmaceuticals, enabling their potential to move fluidly within these fields.

Learn to reason analytically, applying critical thinking and problem-solving skills to confidently approach questions as a scientist.

Participate in pharmaceutically relevant research experiences that promote independent learning, build literature skills, develop creative thinking, and highlight the design and execution of novel experiments.

Develop superior communication skills though focused practice in writing lab reports, technical papers, oral presentations, and critically analyzing scientific articles.

Be exposed to the broader implications of working in the pharmaceutical field with particular emphasis on unmet medical needs and ethical considerations in service to society.

Recognize, appreciate, and implement standard laboratory safety procedures, considering environmental concerns and acting in an ethical, professional, and responsible fashion.

Have the opportunity to integrate their studies of pharmaceutical science into service activities implemented through departmental activities and student organizations.

Be specifically prepared to pursue either pharmacy school, graduate research, or industrial careers
Coursework
View the academic catalog to further explore the curriculum.